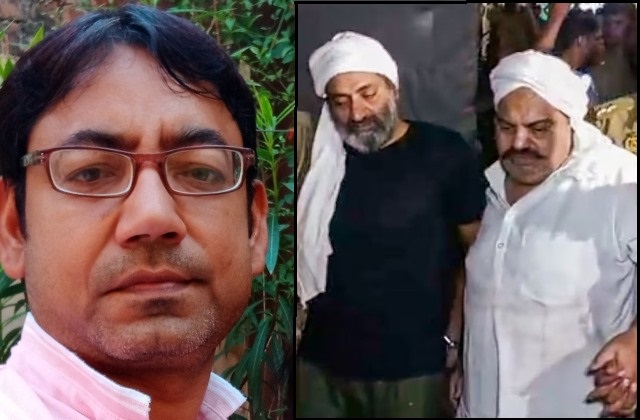 LOK ISSUES
LOK ISSUES
'Yogi Govt's Real Test Lies in Not Allowing New Mafia Dons to Breed'
Madhup Kumar Pandey, a social worker in Prayagraj, says that though the end of Mafia duo Atiq and Ashraf was destined, the killing reflects the failure of city police. His views:
Organised criminals and gangs keep cropping up like water bubbles in Prayagraj; as also in various districts of Uttar Pradesh. However, after a certain period of lording over extortion rackets, such mafia dons meet a similar fate: either they get eliminated in police encounter or killed by their rivals. This is a cycle which I have witnessed throughout my life in this state.
But, the way Atiq Ahmed and his brother Ashraf were killed, live on camera and in full presence of police and media channels, is unprecedented in the history of Uttar Pradesh. Clearly, the killings must have been planned well in advance and the perpetrators were used as pawns. Their profile shows that they were mere puppets; the mastermind of this brazen act is still at large. This apparently shows the city police in poor light and raises questions about the real motive.
The murder mystery has also led to many conspiracy theories in the district. Some call it state handiwork in collusion with the police while many others are describing it as targeting of Muslim leaders by Yogi Adityanath government. Both such claims are laughable and politically motivated. It is well known that ever since coming to power, the Yogi administration has been aggressively handling with the mafia elements in the state; caste or religion have never been its concern. Vikas Dube and Ani Dujana are two glaring examples.
ALSO READ: 'There Is Something Fishy About Atiq's Killing'
As a Prayagraj citizen, I can safely tell you that local people are not unhappy about the killing. Mafia dons rule by spreading an atmosphere of fear in people; hence their elimination always brings a sigh of relief. What the media should question is how such criminals are allowed to prosper and thrive. Obviously, they cannot survive if the government of the day deals with them firmly.
Yogi administration has created an image where they are dealing firmly with mafia in the state. However, the real test of the Government will be that organized crime is not allowed to breed in the first place. That will reaffirm peoples' faith in law and order.
There have been talks that after confiscating ₹11,000 crore worth of properties and assets of these mafias, the government is planning to return them back to the victims and persons from whom these assets were forcefully taken away. Apparently, this will be a tall order to fulfil but even if in some cases, such an example is set, it will only boost the image of Yogi Adityanath as an able and just administrator.
Eliminating criminals is the easy part. Re-establishing the rule of law, not allowing petty criminals to become organised mafia and bringing justice to the victims of organised crime are the touchstones where Yogi regime will need to prove its mettle.
As told to Rajat Rai