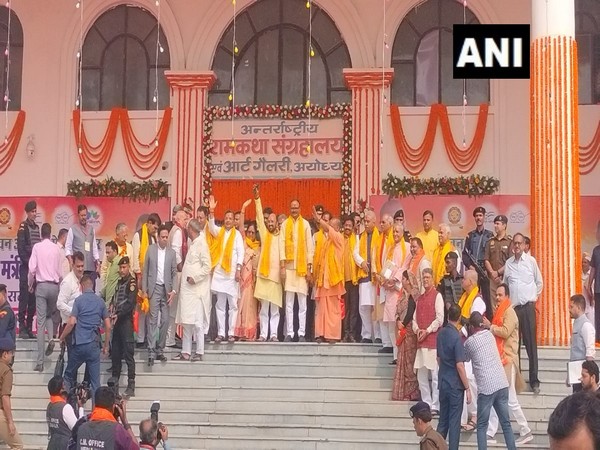 LM NEWS 24
LM NEWS 24
Yogi Reaches Ram Katha Museum Ayodhya, Cabinet Meeting Begins
Uttar Pradesh CM Yogi Adityanath, along with his cabinet colleagues, reached Ram Katha Museum in Ayodhya where the UP Cabinet's special meeting is being held.
Earlier, CM Yogi visited the Shri Ram Janmabhoomi Mandir construction site in Ayodhya. The Chief Minister and his cabinet colleagues also offered prayers at Hanumangarhi Temple and the site of Ram Lala Virajman.
This is the first time the state's executive body will gather in the holy city. The meeting is being held the Ramkatha Museum.
The museum has been decorated grandly. Posters of Lord Shri Ram and Lord Hanuman have been put up in the cabinet meeting hall.
UP Police has tightened security and deployed the Anti-Terrorism Squad (ATS) in the temple town.
ADG Police, Lucknow Zone, Piyush Mordia, said, "We have made the security arrangements for the visit of very special guests. We will try that it doesn't affect the day-to-day routine of common people preparing for Diwali here. Enough police force has been deployed. "
Nitish Kumar, District Magistrate Ayodhya, said, "Strict security arrangements have been made before the cabinet meeting. All the cabinet ministers will first have the darshan of Lord Shri Ram and Hanuman ji, after that, the cabinet meeting will be held in Ramkatha Museum."
The decision to hold the cabinet meeting in Ayodhya coincided with the anniversary of two events. On November 9, 1989, the first foundation stone of the temple was laid, and on November 9, 2019, the Supreme Court paved the way for the temple's construction.
In addition to the religious aspects, the cabinet meeting is expected to focus on development initiatives and preparations for the upcoming Deepotsav celebrations in Ayodhya.
The cabinet meeting also comes ahead of the much awaited consecration of the Idol of Lord Ram in the temple which will take place on January 22, 2024. Prime Minister Narendra Modi will also take part in the consecration ceremonies along with several seers. (ANI)
For more details visit us: https://lokmarg.com/