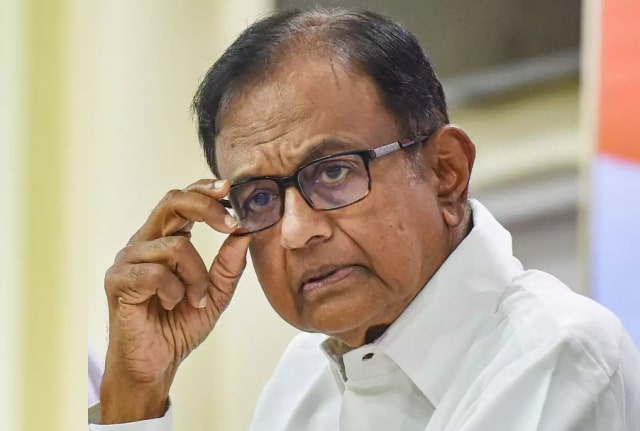 OPINION
OPINION
Chidambaram The Psephologist
What makes a Palaniappan Chidambaram! An extraordinary scholar with an MBA from Harvard Business School, incredibly proficient both in English and Tamil. Among the country's best legal brains, Chidambaram is heard with respect when he will be arguing a case in the Supreme Court. A politician who held finance, home, law and commerce and industry portfolios under the previous political dispensation with competence. Now an MP in the Rajya Sabha, Chidambaram would keep the house enthralled when he participates in its proceedings in clipped tones in English, which is a fast vanishing trait among Indian politicians. But he had a brush with law enforcement agencies raiding his houses in different cities leading to his incarceration in 2019.
Well ahead of that, his qualities led The Economist ahead of 2014 Indian parliamentary elections to say in a long article that Chidambaram would be an ideal candidate for the office of the Prime Minister after the scholarly Dr Manmohan Singh. For, where is another in the country who could match, if not tower over leaders from any other nation in learning, vision and presentation capacity. The globally respected magazine was fascinated by his command over the English language. Not that there will not be any number of Indians who will remain dismissive of The Economist estimate of the ageing but still a robust politician.
In any case, the performance of United Progressive Alliance, a Centre-Left alliance led by the Congress, was so dismal both in 2014 and 2019 general elections that the once largest all-India political party was consigned into hibernation. Post Covid pandemic, which claimed thousands of lives and left many jobless when BJP was running the government at the centre, Congress thinks the time is right for it to improve its fortunes.
Forget what The Economist had to say about Chidambaram. But here our reference point is his highly readable weekly column 'Across the Aisle' in the Sunday edition of Indian Express, a newspaper to have retained its sanity. The column is what succinctness is all about. His universe is large. But in the column his focus is on politics and economy of this country. There will be occasions when he will dip his pen in poison. Critical he is, but with malice towards none.
Chidambaram is not in the business of making forecast of what will be the outcome of elections to be held in Chhattisgarh, Madhya Pradesh, Rajasthan, Telangana and Mizoram. He and his son Karti (a Congress MP from Sivaganga in Tamil Nadu) have strong party affiliations. But when the senior Chidambaram is donning the cap of a newspaper columnist, he is acutely aware that he cannot be blatantly partisan. No denying, however, his sympathies and loyalty to the party will have some bearing on his writing.
ALSO READ: 'Brand Modi May Not Work In Assembly Elections'
He makes no claims to be a pollster. Even then Chidambaram is always interesting, for he has the capacity to see things which others will generally miss out. First, he disagrees with the analysts saying that the forthcoming elections in five states will put NDA and the recently formed alliance INDIA to a test of strength.
According to him, the contest will be between BJP and Congress. Except for the fact that BJP lost 2018 elections in all the states now to go to the polls. That BJP is in power is because of defections with a frustrated Jyotiraditya Scindia denied chief ministership walking over to the BJP. Chidambaram will argue that desertion of JD(U), Shiv Sena, Akali Dal and AIADMK has virtually extinguished NDA, even though on paper 34 other parties, which hardly anyone will know except for their promoters, are part of the alliance. This makes him say: "The NDA is simply another name for BJP."
Even while some INDIA constituents like Samajwadi Party are fielding candidates here and there are some verbal duels between Akhilesh Yadav and Kamal Nath, these are not signs of the newly formed alliance coming apart. Poll forecasting is highly seductive. At the same time, it's a slippery business to read the mind of voters. Having the ability to govern himself by the use of reason at all times, Chidambaram says: "I do not wish to make any predictions." At the same time, he is not to shy away from making "a cautious preliminary assessment" of elections outcome based on available information and reports.
Here we give a quick run-through of what Chidambaram thinks will be post-poll scene in three of the five states, Telangana and Mizoram having dominance of regional parties. The discredited Raman Singh having ruled Chhattisgarh for as many as 15 years till 2018, the present chief minister Bhupesh Baghel is unlikely to face anti-incumbency issue. According to Chidambaram, welfare scheme showing results on the ground, shift of power to the tribals and OBCs and improving levels of prosperity of farmers, particularly rice cultivators should help the Congress in retaining power. "Privately, even the BJP does not challenge this conclusion," says Chidambaram.
As for Madhya Pradesh, expectedly, the Congress led by Kamal Nath will not miss an opportunity to remind voters of defections engineered by BJP to unseat the elected Congress government. And Scindia has not gained in popularity by leaving the Congress to become a minister in BJP government. Moreover, the ghost of Vyapam (Vyavsayik Pariksha Mandal) scam involving rigging of results for selection of medical students and state government employees for money remains a permanent feature of the state's political discourse to BJP's discomfiture.
Uncertainty about the future of incumbent chief minister Shivraj Singh Chouhan and BJP not naming anybody as chief ministerial candidate but instead fielding seven sitting Lok Sabha MPs, including three Union ministers are working to the advantage of Congress. BJP leadership seems to be a prisoner of confusion as far as Madhya Pradesh goes. The BJP indecision about state leadership, according to Chidambaram "has lit the fire of ambition in too many hearts, including serving Union ministers… Indications are that the bell has tolled for a change."
The two-time chief minister of Rajasthan and the only woman to hold that office Vasundhara Raje may not again have been projected as CM face. Narendra Modi saying at one of his election rallies in Rajasthan that the party's face this time would be its 'lotus' symbol must have upset Raje to no end. After all, besides being a BJP national vice-president, she has over the years strengthened the party in Rajasthan where Congress is traditionally a force to reckon with. Some high-ups in the party might have reservations about Raje. But she wields enough clout in the state not to be easily sidelined.
After all the wrong noises, Raje filed her nomination papers for Jhalrapatan Assembly constituency, which returned her to the Assembly four times since 2003. Not only that, many of her confidants are in the election fray. All that goes to show that Raje has a standing in Rajasthan independent of BJP. Interestingly Raje has rubbished all the talks about her retirement from active politics. Announcing that she was giving herself another five years in politics, Raje said, "I have just filed my nomination, Jhalwar is my family… Don't entertain any thoughts of my retirement anytime soon." Who knows, if BJP manages to outsmart Congress in spite of all its welfare schemes, Raje may stake a claim to CM office.
For more details visit us: https://lokmarg.com/