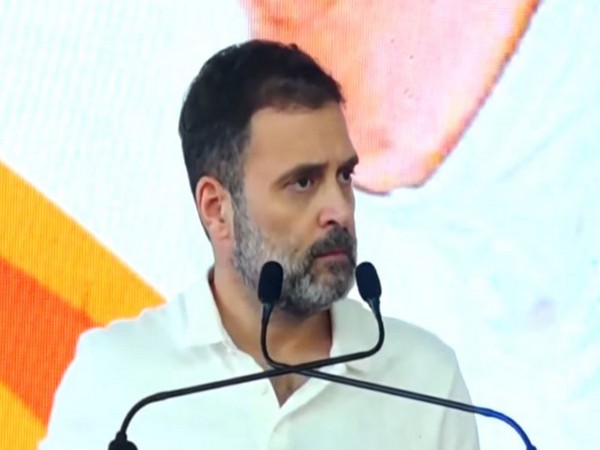 LM NEWS 24
LM NEWS 24
Congress Fighting Against BJP-BRS-AIMIM, Says Rahul Gandhi
Asserting that though the Bharatiya Janata Party (BJP), Bharat Rashtra Samithi (BRS) and the All India Majlis-E-Ittehadul Muslimeen (AIMIM) call themselves different parties, Congress MP Rahul Gandhi said that they work together in unison in Telangana but the Congress party is fighting against BJP-BRS-AIMIM combine.
"In Telangana, the Congress party is not fighting against BRS but with BRS, BJP and AIMIM combined. They call themselves different parties but they are working together unitedly," Rahul Gandhi said speaking at Vijayabheri Sabha at Telangana's Tukkuguda.
"I have watched the BRS with my own eyes in Parliament. Whenever BJP needed them the BRS supported them. They supported Narendra Modi while passing the Farmers' Bill. When it came to the election for the President, Vice President they supported Narendra Modi. They supported GST," Rahul Gandhi listed out the instances the BRS supported the BJP in Parliament.
Rahul Gandhi also alleged that the three parties chose to disturb the Congress party's Vijayabheri Sabha by holding public meetings on the same day.
"We decided to hold a public meeting today, all three chose to hold public meetings today so that they can disturb our meeting. But Telangana supported the Congress, so they were not able to disturb us. They will call each other up in the evening and will figure something out to oppose the Congress party," he said.
Rahul Gandhi also claimed that there are no cases against Telangana Chief Minister K Chandrashekar Rao or AIMIM chief Asaduddin Owaisi since Prime Minister Narendra Modi considers them his "own people".
"There are cases against every Opposition leader by the central agencies, whether it is the ED or the CBI. But there is no case against the Telangana Chief Minister KCR nor the AIMIM chief. They just fight against the opposition. Narendra Modi does not fight against their own people. They think your Chief Minister and AIMIM to be their own. So there is no case against them. They have broken all records of corruption but there is no case by the ED, CBI," he said.
The Congress MP also listed out six guarantees by the party once it comes to power in the state.
"We have promised to provide a house plot and 5 lakh rupees for the construction of a house to the homeless through the Indirimma Illu scheme. 250-square-foot house for those who fought for the Telangana movement. Whenever we come to power you will get a house over your head," Rahul Gandhi said.
"Every month women will get Rs 2500. Narendra Modi has given you Rs 1000 gas cylinder, we will give you Rs 500 cylinder," he said speaking on the Mahalaxmi scheme. "Karnataka buses are free for Karnataka women…Telangana women will also get this benefit once the Congress party comes to power," he added.
Rahul Gandhi also promised "200 units of free electricity every month through Griha Jyoti Scheme." Moreover under the Yuva Vikasam scheme he promised "five lakh assistance to youths going to colleges, and for coaching fees."
The Congress MP also promised Rs 4000 monthly pension for the elderly and Rs 10 lakh health insurance under Rajiv ArogyaShri scheme.
Moreover, under Rythu Bharosa, Rahul Gandhi promised "Rs 15,000 for every acre to our farmer and Rs 12000 for every agricultural labourer."
Drawing a reference from the success of their guarantees in Karnataka, Rahul Gandhi said, "In Karnataka elections, Narendra Modi said in his speech that the Congress party won't be able to fulfill its guarantees. We gave five guarantees to Karnataka. We implemented them the day our Cabinet was sworn in. The day the Congress party will form the government here, that very day you will receive your guarantees."
Speaking about the scams undertaken by the BRS government through their schemes, Rahul Gandhi said, "They (BRS) stole Rs 1 lakh crore in the Kaleshwaram project, they took away your land in the Dharinin portal scam,…big landowners were benefitted from the Rythu Bandhi scheme…,they leaked your public service paper. We want to give you back what they have looted."
Telangana will go to polls by the end of this year. The state is expected to see a three-pronged contest against the Congress, BJP and BRS. The results of the assembly elections is expected to set the tone for the upcoming 2024 Lok Sabha polls. (ANI) 
Read More: https://lokmarg.com/