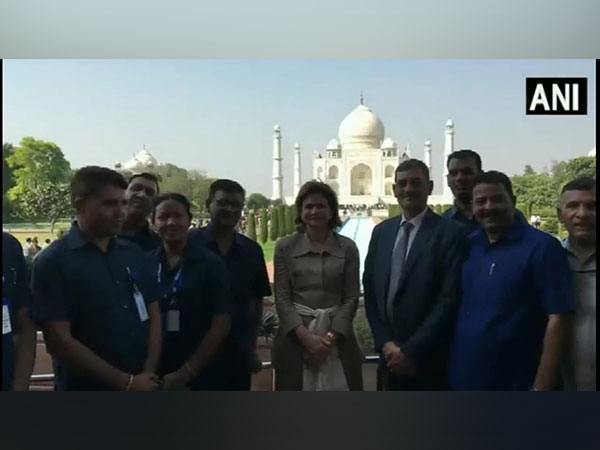 LM NEWS 24
LM NEWS 24
Dominican Republic VP Pena Visits Taj Mahal
The Vice President of the Dominican Republic, Raquel Pena Rodriguez, visited the famous Taj Mahal on Thursday.
Rodriguez arrived in New Delhi on Tuesday on a three-day visit to India. She met President Droupadi Murmu and External Affairs Minister S Jaishankar on Tuesday.
Earlier in the day, India signed two Memoranda of Understanding (MoUs) in ocean sciences and medical product regulation with the Dominican Republic.
The MoUs were signed during a meeting between the Dominican Vice President and her Indian counterpart, Jagdeep Dhankhar, in the national capital.
Vice President Rodriguez on Wednesday stated that the future of bilateral relations between New Delhi and the Dominican Republic is 'bright', while extending support for India in its bid to become a permanent member of the reformed United Nations Security Council.
She said further that the two countries can act as bridges and gateways for each other to boost people-to-people ties. "The Dominican Republic can be a window for India to Latin America and the Caribbean while India can be the door for the Dominican Republic to South Asia and beyond," she said at the event.
"The Dominican Republic is ready to take the qualitative leap with India. The future of our bilateral relationship is bright," she added.
Following the inking of MoUs, a joint statement was released in which Vice President Jagdeep Dhankhar and his Dominican Republic counterpart strongly condemned terrorism in all its forms and stressed on the need for the international community's concerted and coordinated action to combat terrorism.
The joint press release of the meeting between Jagdeep Dhankhar and Raquel Pena Rodriguez reads, "Strongly condemned terrorism in all its forms and manifestations. They emphasized the need for concerted and coordinated action by the international community to combat terrorism, by adopting a zero-tolerance approach. They also called for an expeditious finalization and adoption of the Comprehensive Convention on International Terrorism within the UN framework."
The two leaders acknowledged the "critical importance" of maintaining regional stability and peace. Vice President Dhankhar and Rodriguez emphasized the need for continued close coordination between the two countries in multilateral organizations on respective national candidatures and global issues of mutual interest. (ANI)
Read More: https://lokmarg.com/