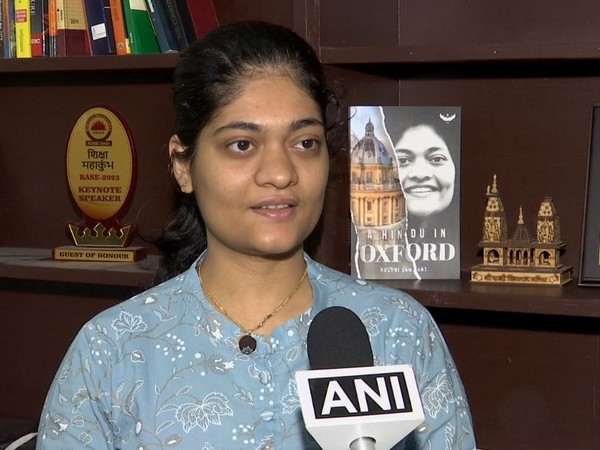 LM NEWS 24
LM NEWS 24
First Indian To Head Students' Union Bares Dark Side Of Oxford Univ
After scripting history by becoming first Indian to be elected as the President of the Oxford Student Union (SU), Rashmi Samant has now come out with a tell-all book, the baring the dark side of an inistution that is spoken of in glowing terms across the world.
In her book, titled 'A Hindu in Oxford,' Samant detailed her harrowing experience of being allegedly targeted and singled by her professors at the university, claiming that they questioned her holding the office of president citing her religious and ethnic backgrounds.
To questions about racism that natives often have to experience on foreign shores, Samant said "Bharatiya students" face a lot of discrimination and hatred which is not discussed openly in public and neither are the victims and silent sufferers given any platform to bring their concerns into the public domain.
In an exclusive interview with ANI, she said when she stepped down from her post in February of 2021, the matter would have reached the stage of "conviction" (for the professors she accused of harassment and the university authorities) "if they had not found somebody who looked an Indian to take over (from her)".
On her successor Avnee Bhutani saying Rashmi didn't face any discrimination on grounds of her nationality and ethnicity, she said, "Avnee is doing a disservice to the movement (on campus) by playing down the trauma that somebody else has lived through."
"She has no proof to back her claim. It was an act to defame me and to play down the seriousness of racism abroad for ulterior motives. During the British era also we saw a lot of people from Bharitya origin who used to defend the British as it was something positive for the Indian people. All they are doing is lying and lapping up to the expectations of the British," she said.
Asked if Indians in the UK could look forward to a brighter future, sans racism, with an Indian-origin Prime Minister in Rishi Sunak at the helm, she said, "Our people are fighters and Sunak, too, became the Prime Minister after overcoming serious odds. However, he earned the respect and trust of fellow politicians and world leaders and is now working to take the country forward with full support of the people."
"Our people are treated very badly and are always discriminated against. We never take it as an excuse not to excel. We do not cry. We do not become crybabies. Instead, we fight it and give it back to their face," she said.
On Prime Minister Narendra Modi raising or enhancing India's global position and prestige through his leadership, Rashmi heaped praise on him for making the African Union a permanent member of the G20 at the recent summmit in the national capital, New Delhi.
She said PM Modi has stepped up to being a global leader by giving countries that are seldom spoken of the recognition they truly deserve.
"Finally, we have a seat with the Western countries. America and the UK respect us, Canada fears us, and we have great relations with Europe. What we often neglect to see is how Modi ji has also brought the African Union. That is the mark of a true leader who is willing to uplift so many. We should take pride in that we took G20 to G21," she said.
On whether she will consider joining politics, she said service holds utmost importance in her life and she would be happy to serve people in any role.
"I don't mind doing it in any way, being an author, commentator, writing about it, speaking about it. That is of utmost importance for me," she added. (ANI)
Read More: https://lokmarg.com/