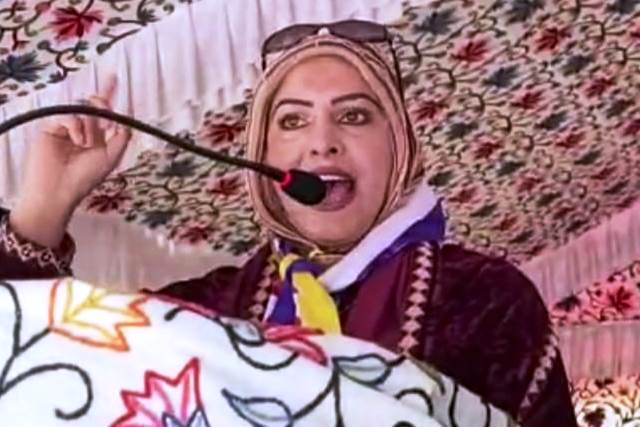 LM NEWS 24
LM NEWS 24
Kashmiri Female Activist Busts Pak Propaganda At UNHRC
A female activist from Kashmir valley has shown the mirror to Pakistan and busted its malicious propaganda at the 54th Session of the UN Human Rights Council Session in Geneva on Wednesday
Tasleema Akhtar, a socio-political activist, said in her intervention that being a native, she would like to bring forth the stark developmental differences of the union territory of Jammu and Kashmir that is JK UT and Pakistan-occupied Jammu Kashmir (PoJK).
"While JK UT is bringing transformational changes for the betterment of the region, people of PoJK are living at the mercy of the Pakistan government having utter disregard for people over there and their basic human rights and amenities", she told the Council.
She said while the Union government was investing in infrastructure and developmental projects in J&K besides bringing peace and prosperity to the region, Pakistan is struggling to meet its basic financial obligations and is shielding terrorist outfits to wage a proxy war against India.
"PoJK lacks even basic infrastructure and amenities, with negligible investment and blatant misappropriation of its resources by Pakistan", she added.
Tasleema said in terms of education and literacy rate, JK UT is far ahead of PoJK. The government of India spends 9 times more on the education sphere in JK UT compared to its counterpart. PoJK is facing a major crisis in its education sector, lacking basic infrastructure including buildings and roofs, clean water, toilets, etc. causing acute hardships to students, resulting in a severe dropout ratio.
Change is also perceptible in the health sector. People of JK UT are availing health benefits in even the remote areas with national health schemes, which is a distant dream for the people of PoJK. GoI provides the people of Jammu and Kashmir with universal health insurance coverage for up to USD 6,000 per family. However, health facilities in PoJK are abysmal with a lack of even primary hospitals.
Tasleema told the UNHRC that the poverty rate in JK UT is also quite low compared to PoJK. The per capita income of JK UT at around USD 2,500 is also higher when compared to PoJK, where per capita income is around USD 1,000 and USD 250 in Gilgit-Baltistan.
"Tourism influx is also an all-time record high in JK UT with around 20 million tourists arrival so far in 2023 besides successful completion of G-20 Summit meeting in Srinagar on May 22-24, 2024, on the other hand, tourists inflow in PoJK has severely low," she said.
"Therefore, I would urge the honourable council to take appropriate measures in setting up accountability for the Pakistan government for protecting the basic human rights of the people of Pakistan-occupied Jammu and Kashmir," Tasleema told the UN Human Rights Council.
Later, in an interview with ANI, Tasleema also lambasted Pakistan for sponsoring terrorism in Jammu and Kashmir and "playing" with the innocent lives of the Kashmiri people. (ANI)
Read More: https://lokmarg.com/