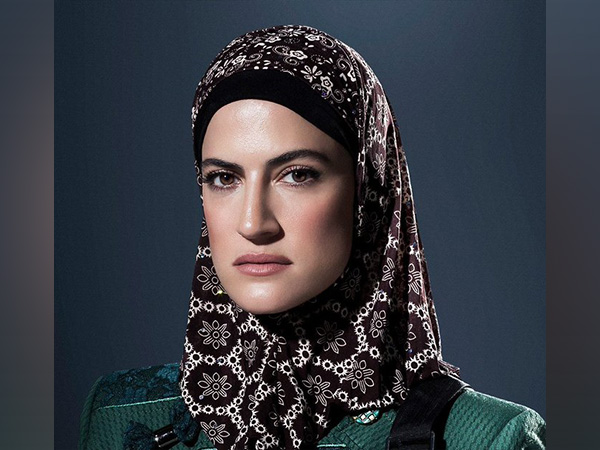 LM NEWS 24
LM NEWS 24
Rona-Lee Ready To Join Fight Against Hamas
Israeli actor Rona-Lee Shimon, celebrated for her leading role in the popular web series 'Fauda,' has pledged her commitment to opposing Hamas in light of the terrorist group's attack on her country.
Deeply moved by the loss of innocent lives in attacks by Hamas, the actress is determined to take action.
In an exclusive interview with ANI, Shimon candidly discussed the Hamas brutality. When asked if she's ready to fight against Hamas, Shimon responded, "I will do everything in my power to have Israel win."
The actor has appreciated India's solidarity with Israel and its condemnation of the October 7 attack by Hamas terrorists from the blockaded Gaza Strip into Israeli towns resulting in the loss of hundreds of Israeli civilian lives and the capture of more than 100 hostages. Israel swiftly retaliated with airstrikes on Gaza that have killed hundreds of Palestinians.
"Honestly. I feel grateful to have an ally, a beautiful ally like India. India is one of my favourite places on Earth. I love its people. I can really understand why the first thing that you guys did was to condemn the horrible action of October 7th in Israel. I would expect nothing less, but I want to say with utmost gratefulness in my heart. I think it's the best thing that you guys can do for us is condemn this horrible terror and stand by your side."
Shimon struggled to control her emotions recalling the brutal events on October 7 perpetrated by Hamas. "We're in the midst of a war. It's going to result in more suffering for many lives, but we will prevail. We are preparing, and our first priority is to bring our hostages home," she said.
On Saturday, the Israeli military confirmed that 126 people are being held as hostages by Hamas. According to media reports the Palestinian terror group has warned that it will kill hostages in response to unannounced Israeli strikes on civilian targets.
Numerous reports have indicated that after the October 7 attack, Hamas gunmen took children, women and individuals from various nationalities possibly taken from their homes and from a wooded area near the Israeli border where they participated in a music festival.
Actor Shimon who in 'Fauda' essayed the character of Nurit a member of Israel's counter-terrorism unit in the interview with ANI said that her country is doing everything to bring the hostages back.
She called Hamas's attack one of the most horrific atrocities ever made in the history of Israel.
"I think first of all me and everyone I know in Israel, every civilian, every citizen of Israel is now supporting the cause of first of all, bringing the hostages back. We are doing everything in our power to bring them back. What happened eight days ago is one of the most horrific atrocities ever in the history of my people," the 40-year-old actor said.
"This is worrisome on so many levels, but what we're doing right now is what is the most important thing that you can do and what we must do right now is bring the hostages back," Shimon said.
"We are supporting the army. We're taking care of our army. We are in the middle of war. It's going to be even more bad for a lot, a lot of human lives, but we are going to prevail. We are getting ready and first thing that we're doing is bringing our hostages back," she added.
The actor also called on the international community to intervene to help bring back civilians held hostage by Hamas.
Asked whether she believes that Hamas will release the hostages, Shimon said, "I don't. I really hope so. So, I think that this is what every nation on planet Earth should intervene and do everything in their power to bring our people back."
The actor pointed out that citizens of 36 countries are among the hostages.
"They have people, not just Israelis, not just Jewish people. They're holding people from 36 countries from around the world. The global community must unite to bring these hostages home," Shimon said.
The demand for their release reverberates in Israel and around the world. Shimon has urged world leaders to come forward and help in the release of these hostages.
She said that India and Israel share good relations and recalled her visits to India. Shimone said that she feels "grateful" to have an ally like India. She called Hamas ISIS and added that "they will not stop."
Asked about religious extremism the actor said, "I think if you look at religion. Religion is a beautiful thing if you make it beautiful, it is a human choice to use religion in the best way. Whoever has lost the spark inside of them can use religion in a very very bad way. What was shown to us on October 7 is that Hamas is ISIS and they will not stop."
Meanwhile, another 'Fauda' actor Lior Raz inspired by the experiences of the Israel Defense Forces (IDF), has joined 'Brothers in Arms,' a volunteer group combating Hamas.
From the southern Israeli city of Sderot, the actor shared a video on social media, accompanied by Israel Democracy Institute President Yohanan Plesner and journalist Avi Yischarov.
Theatres in Israel have gone dark and the country's film and TV industry have shut operations reported Variety which said that those active in media and entertainment are impacted by the tragedy and are volunteering in extensive ways. (ANI)
Read More: https://lokmarg.com/