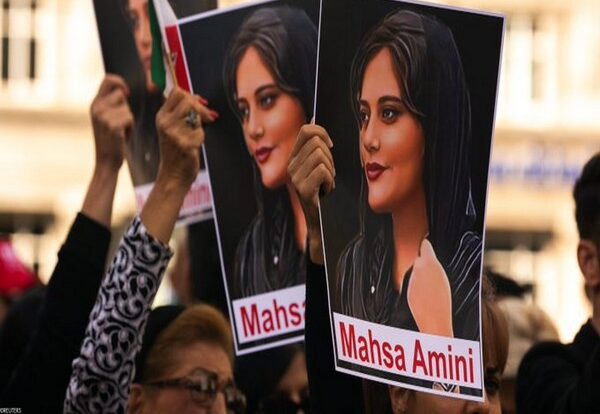 LM NEWS 24
LM NEWS 24
US Imposes More Sanctions On Iran On Mahasa Amini's Death Anniv
More than 20 Iranian individuals and entities connected to the harsh repression of protests after Mahsa Amini's death one year ago were subject to penalties by the Joe Biden administration on Friday, reported CNN.
The newest round of sanctions is in retaliation for Tehran's ruthless crackdown on the demonstrators who took to the streets after Amini passed away while in the care of Iran's purported morality police.
The morality police, against whom the US levied penalties last year was allegedly arrested by the morality police for wearing her hijab 'improperly'.
The sanctions targeted, "18 key members of the regime's security forces, the Islamic Revolutionary Guard Corps (IRGC) and the Law Enforcement Forces (LEF); the head of Iran's Prisons Organization; three individuals and one company in connection with the regime's systematic censorship and blocking of access to the internet; and three IRGC and regime-controlled media outlets—-Fars News, Tasnim News and Press TV—-and three senior officials," a news release from the US Treasury Department said.
According to the Treasury Department, the US sanctions were implemented in collaboration with allies such as the United Kingdom, Canada, and Australia.
The US Secretary of State Antony Blinken revealed in a separate statement that the US State Department is taking steps "to impose visa restrictions on 13 Iranian officials and other individuals for their involvement in the detention or killing of peaceful protestors or the inhibition of their rights to freedom of expression or assembly," reported CNN.
"Since Mahsa Amini's death and the protests that followed, we have pursued visa restrictions on 40 Iranian officials and other individuals for their involvement in these acts targeting peaceful protestors," CNN quoted Blinken as saying.
Meanwhile, according to CNN, US President Joe Biden said in a statement on Friday that he and First Lady Jill "join people around the world in remembering her—and every brave Iranian citizen who has been killed, wounded or imprisoned by the Iranian regime for peacefully demanding democracy and their basic human dignity."
"As we have seen over the last year, Mahsa's story did not end with her brutal death. She inspired a historic movement—Woman, Life, Freedom—that has impacted Iran and influenced people across the globe who are tirelessly advocating for gender equality and respect for their human rights," US President Joe Biden said.
The US looks to be nearing an agreement with Tehran to secure the release of five Americans who have been classified as being unfairly detained in Iran when the latest round of sanctions was announced on the night of the anniversary of Amini's death.
Just weeks before the one-year anniversary of the major protests caused by Mahsa Amini's death, Iranian authorities are prepared a new Bill on hijab-wearing that experts fear would put unprecedentedly harsh punitive measures into law, according to CNN.
The 70-article draft law sets out a range of proposals, including much longer prison terms for women who refuse to wear the veil, stiff new penalties for celebrities and businesses who flout the rules, and the use of artificial intelligence to identify women in breach of the dress code.
Experts said the Bill, which has yet to be passed, was a reminder to Iranians that the regime will not back down from its stance on the hijab despite the country's enormous protests last year, according to CNN.
Notably, many Iranian women have chosen to start showing their hair since the death of Mahsa Amini in September 2022 after being detained by Iran's morality police for "improperly" wearing her headscarf. Iranian celebrities, athletes and actresses have followed suit in solidarity.
Amini, a 22-year-old Kurdish-Iranian woman, died last September after being detained by the regime's infamous morality police and taken to a "re-education centre," allegedly for not abiding by the country's conservative dress code.
While not officially disbanded, the morality police had largely pulled back following last year's protests, which have gradually waned.
But earlier this month, police spokesman General Saeed Montazerolmahdi said the morality police would resume notifying and then detaining women who are caught without the Islamic headscarf in public.
The hijab has long been a point of contention in Iran. It was barred in 1936 during leader Reza Shah's emancipation of women until his successor lifted the ban in 1941. In 1983 the hijab became mandatory after the last shah was overthrown in the Islamic Revolution of 1979, CNN reported.
Iran has traditionally considered Article 368 of its Islamic penal code as the hijab law, which states that those in breach of the dress code face between 10 days to two months in prison, or a fine between 50,000 to 500,000 Iranian rials, what is today between USD 1.18 to USD 11.82.
Another section states that in order to enforce the new law, Iranian police must "create and strengthen AI systems to identify perpetrators of illegal behaviour using tools such as fixed and mobile cameras."
Earlier this year, state media reported that cameras would be installed in public places to identify women who violate the country's hijab law. (ANI)
Read More: https://lokmarg.com/