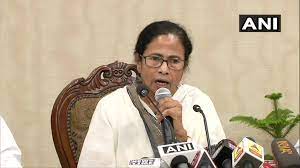 LM NEWS 24
LM NEWS 24
Will Never Beg Money From Delhi: Mamata
West Bengal Chief Minister Mamata Banerjee on Thursday said she would not mind begging but will never ask for money from the Bharatiya Janata party (BJP)-led Centre.
Chief Minister Mamata Banerjee inaugurated the state-of-the-art Dhanadhanyo Auditorium in Alipur in Kolkata.
Taking to Twitter, Banerjee said, "A proud moment as we inaugurate the Dhanadhanyo Auditorium, a state-of-the-art indoor facility built at a cost of Rs 440 crore. My sincere appreciation to the PWD for making this dream project a reality. This modern marvel is a symbol of progress and development in our state."
Speaking on the occasion, Mamata said, "All my thoughts come from people. All I have in mind is that people should never misunderstand me. Maybe sometimes I do not have enough money to do good job. There may be other obstacles. It is being heard that we will not be given anything until 2024. If needed, I will beg for money spreading my aanchal but I will beg for money from Delhi."
Last month, Chief Minister Mamata Banerjee sat on a dharna against the central government over the alleged blocking of state money.
She had said she would sit on a dharna near the Prime Minister's residence in the national capital, if necessary.
She said the two-day dharna was staged to protest against the BJP-led central government's alleged discriminatory attitude towards West Bengal. Mamata said she was sitting on dharna in her capacity as the TMC chief and not as the chief minister.
"I am working for people. I am fighting for the people whose money has been stopped for 100 days' work. I am sitting for the rights of common people whose money has been blocked by the Centre. If required, Mamata can even sit on dharma near the PM's house. I have the courage," the Trinamool supremo had said.
"You have blocked the money by invoking a so-called Section 27. But remember, people will vote you out with section 420 in 2024. You will not come to power," she had said. (ANI)