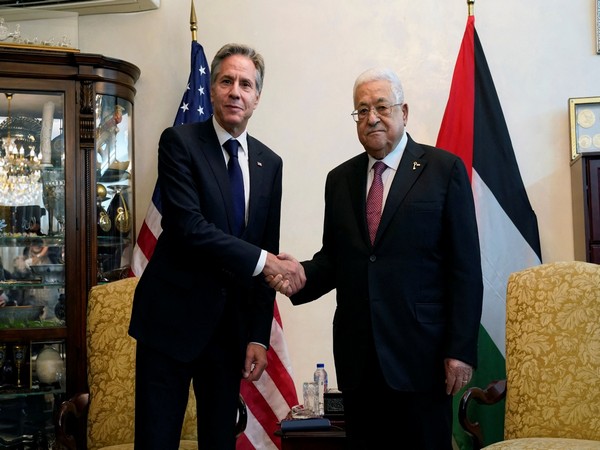 LM NEWS 24
LM NEWS 24
Blinken Meets Mahmoud Abbas, King Abdullah Amidst Israel-Hamas Conflict
US Secretary of State Antony Blinken met with Mahmoud Abbas, head of the Palestinian Authority in Amman, Jordan on Friday.
The meeting comes even as the Israel-Hamas conflict entered its seventh day. Israel has responded to the terror attacks on its soil carried out by Hamas terror operatives that left nearly 1300 dead and several injured.
The Palestinian Authority head represents the Fatah party a bitter political rival of the Hamas, which controls the Gaza strip.
A day prior to his meeting with Blinken, Mahmoud Abbas also met with Jordan's King Abdullah. After the meeting the Palestinian authority made an appeal to stop the war.
A statement by the Secretary General of PLO executive committee on behalf of Abbas said, "We affirm the policy of the Palestine Liberation Organization, the sole legitimate representative of the Palestinian people, which rejects violence and adheres to international legitimacy, peaceful popular resistance, and political action as a path to achieving our national goals of freedom and independence."
"Mr. President's meeting with the Jordanian King comes within the framework of the efforts made by the Palestinian leadership around the clock to stop the destructive "war", and within the framework of coordinating positions between Palestine and Jordan" the statement further said.
Mahmoud Abbas in his statement also made an appeal for allowing international aid into Gaza.
"During his meeting with the Jordanian King, His Excellency called for an immediate halt to the comprehensive aggression against our people, the provision of humanitarian medical and relief aid, the provision of water and electricity, and the opening of urgent humanitarian corridors in the Gaza Strip" the statement read.
Meanwhile, the US Secretary of State Blinken also called on Jordan's King Abdullah. In his meeting, King Abdullah urged for an opening of a humanitarian corridor for Gaza.
A statement from the Royal Hashemite court said, "His Majesty King Abdullah II, receiving US Secretary of State Antony Blinken, urges opening urgent humanitarian corridors for medical and relief aid to Gaza, calling for protecting civilians, de-escalating, and ending the war on Gaza."
US Secretary of state has also planned to visit key allies Qatar, Saudi Arabia, Egypt and the United Arab Emirates in an effort to minimise the aftereffects of the Israel-Hamas conflict.
Washington has affirmed it solidarity with the Israeli people and the Benjamin Netanyahu-led government. It has also provided Israel with military support, moving warships, aircraft and special operations forces to the region. (ANI)
Read More: https://lokmarg.com/