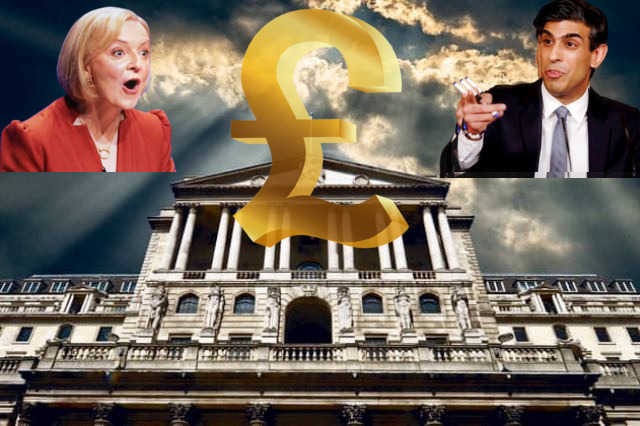 OPINION
OPINION
Financial Markets and British Sovereignty
It would appear that Rishi Sunak's rise to the Prime Minister's office is a remarkable triumph of multicultural, multi ethnic, liberal Britain over its past as a racist country. However this may be a distracting gloss. A more sinister and fundamental shift may have taken place and United Kingdom may have unwittingly walked into a political status that most British may be uncomfortable with. Britain's post Brexit sovereignty may now just be in name but not real.
In the race for the top job, Rishi Sunak won with the backing of the MPs but without a single public vote. It is worth asking what made confident mavericks like Johnson and nationalists like Penny Mordaunt to back down, particularly as either of them had greater chance of winning the members vote.
The unedifying fact is that Liz Truss was ousted by the markets, not by the people. But more worrying is that the new Prime Minister, Rishi Sunak, has been imposed on the British by the unelected bosses of Financial Institutions, by arm twisting MPs to back him.
Rishi Sunak is there to do a job, to steady Britain's economic status and reinstate London's fertile ground for the financial markets. The 'market' didn't like policies introduced by Liz Truss, who wanted to reduce personal and corporate taxes to put more money in the hands of people and corporations for them to invest.
Liz Truss's economic policy was the final move of the thinktanks that led the battle for Brexit. It was built on the platform of a self assuming restored sovereignty free from EU constraints. Its theory is simple, appears logical and attractive.
Release more money into the hands of people who are more likely to invest and then wait for unbridled growth. As innovation and industry flourishes, the tax base increases because more people are employed both generally and in the high wage bracket. Moreover the high earners will earn more which means their tax contribution increases although the percentage tax to income remains same.
Further a corporate sector with spare cash will have more money to invest and more investment also means more companies, bigger turnovers, more exports, and so, more tax contribution. The country's debt will decrease and its GDP will mushroom.
Reality is not so simple. This approach was tried by Reagan in USA, but it didn't work. During Reagan period, overall debt increased 186% from $907 Billion to $2.6 Trillion! Economic 'growth' was the least in his period. Kennedy and Clinton achieved greater growth. Industry and manufacturing didn't move any further. The same happened in United Kingdom. After cutting tax from 30% in 2007 to 19% in 2018, the UK had the lowest rate of private investment as proportion of GDP in G7 countries. Academic research across many countries finds strong evidence that cutting taxes on the rich increases inequality but has no effect on growth or unemployment.
Secondly, manufacturing as part of economic activity has gradually decreased. In 1950 it was 30% of Britain's GDP. Now it is a mere 10%. During the Thatcher era, UK manufacturing was deliberately allowed to fail in changing times as it could not compete with modern technology and cheaper labour elsewhere without State investment in skills and support for change to new technologies. Thatcher felt the way forward was to strengthen the financial and the service sector. Manufacturing in Britain now is either small scale or is less about making things and more about integrating supply chains and assembling parts made elsewhere.
Other countries such as Germany and China invested in existing companies and helped them to modernise as well as setting up technology institutions to improve the skill base. In an international index study, manufacturing forms 27% of China's economy, 23% of German, 16% of India's while only 10% of UK economy.
ALSO READ: 'Queen is Dead, Long Live The King'
So even if some people with a lot of cash or access to loans wanted to invest in the Truss's Growth, Growth Growth Brexit Britain vision, there was inadequate infrastructure, lack of skilled workforce and shortage of a base to work from. It makes more sense to invest in countries that have skilled workforce and modernised technology in manufacturing.
In contrast, the financial sector in UK has been given many incentives in the last five decades. Taxes for the high earners were reduced from 83% to 40% during the Thatcher era. Investments by financial sector were tax exempt. Thatcher gave many incentives to the financial sector, making London attractive for the world's money market. Labour Government's Brown made it even more attractive by the infamous 'light touch' approach that refrained from imposing rigid rules such as high liquidity and stringent checks on trustees. The World's banks and financial institutions flocked to London. Then the 2008 crash came and calls for making rules a little tighter started but still not as rigid as in many other countries. Britain is still a leader in some sectors of the financial markets, such as Foreign Exchange and debt. Currently, some £75 trillion pass through the UK foreign exchange market. The London Stock exchange is still among world leaders. UK Bank Balances are some 4.5% the size of national income.
Relatively, the financial sector is a non-productive part of the economy. Despite all this money sloshing around, nearly 80% of the Bank lending in Britain is inter-bank lending, that is banks' lending to each other! Only 3.4% of all business lending by UK Banks goes to manufacturing. The financial sector relatively contributes only 8.3% to the UK economy, about £183.7 billion and only £28.8 billion in taxes.
It is difficult to see where growth was going to come from. It would take many years for infrastructure and skill development for a manufacturing revival and a change of attitude within the banks to lend more to industry.
On the other hand, the international financial markets see London as their own territory with little trickle down money going to the country relative to the money transiting. The city is the Heathrow of world money. Money comes in and money goes out.
Another fact being ignored by the low tax lobby is that most high earners are professionals and small businesses. They are not multi-millionaires but earn enough to be in the 45% tax bracket. This class of rich persons isn't going to put its money in risky investments that Truss wanted. Instead the person is more likely to go on more expensive holidays, buy a second home or send the kids to a private school. Not quite the economic stimulus for growth.
The people who do earn millions and would potentially have a few hundred thousand pounds spare if tax is lowered, do not pay enough tax in the first place to benefit from this. With the help of expensive accountants they either have non-domicile status, thus evading high income tax, or hide their earnings in offshore accounts through shell companies.
They also make a lot of money in the financial sector through asset stripping or take over high tech companies that they sell off. None of this activity aids growth and most investments in these can avoid tax.
This lucrative money making industry that produces almost nothing and has no interest in UK growth wants a stable background for it to take risks. The industry is like a teenager who wants to rebel but seeks stable family to spring back to. Hedge funds are a gambling industry by another name, but as they gamble their money, they want a financially stable country to work from.
That's where Liz Truss and co went wrong. Her tax reduction policy was going to create a £60 billion deficit in the budget. She hadn't announced any reductions in spending. She was convinced she would fill this hole with 'growth'.
The financial markets were in no mood to give her a chance. Government debt has to be bought by the market. It wasn't interested or demanded high yield, thus pushing debt further. The markets want a fiscally sound country to work from. They didn't want to wait to see if the Truss experiment would lead to £60 billion. They weren't going to fill that gap by risking their own money. Nor did they want to see a country with unrest as Government would be forced to make cuts in welfare. There is no room for two gamblers in town.
So the financial markets went all guns blazing, ousted her and made the deals behind doors for Rishi Sunak to be put in place to stabilise the economy. He is one of them, understands how the sector works as he himself worked in the least productive sector, the hedge funds.
The disturbing fact about all this is that while Great Britain tried to go it alone and shed off the minor constraints of fellow European countries, it has walked into a much bigger pit where it has sovereignty almost only in name but not in reality. The financial beast that Thatcher nurtured has become a big parasite. It's the market that now owns Great Britain. It will be a long time, if ever, for Britain to regain any sovereignty.
It is now the money men in China, Australia, USA, South America, Ghana etc who run UK plc. Rishi will be out and a new leader installed when markets feel the ground is safe, unless the natives rebel. There are lessons here for other countries.
Read More: https://lokmarg.com/