<![CDATA[ Gorky Bakshi When you imagine an ambassador of any country; you would definitely think of a convoy of luxuries cars and security men. Now think of an alternative, something unbelievably different. Because the Mexican Ambassador to India Melba Pria always uses an auto-rickshaw to travel around the city. And it is not any rickshaw, it is her official car! She believes that if leaders of society change their mindsets, people of the country automatically follow. The auto rickshaw  is her official vehicle because it is "environmently friendly" as she believes. Why Auto? She was a frequent traveller to India before she was an ambassador. In India she went by auto-rickshaw wherever she travelled in the cities or towns. "Before taking the decision of taking auto as official vehicle I realized auto is one of the most efficient means of transport in Delhi. It isn't only environmentally friendly but also became India's cultural icon." Melba Pria has got embassy series for her auto. The floral design which decorates the canvas on the top of the vehicle has been made by Mexican artist Senkoe.  Senkoe was attending Delhi Street Art Festival few years back when he got to know that Melba Pria is looking for an artist to paint her official vehicle in India.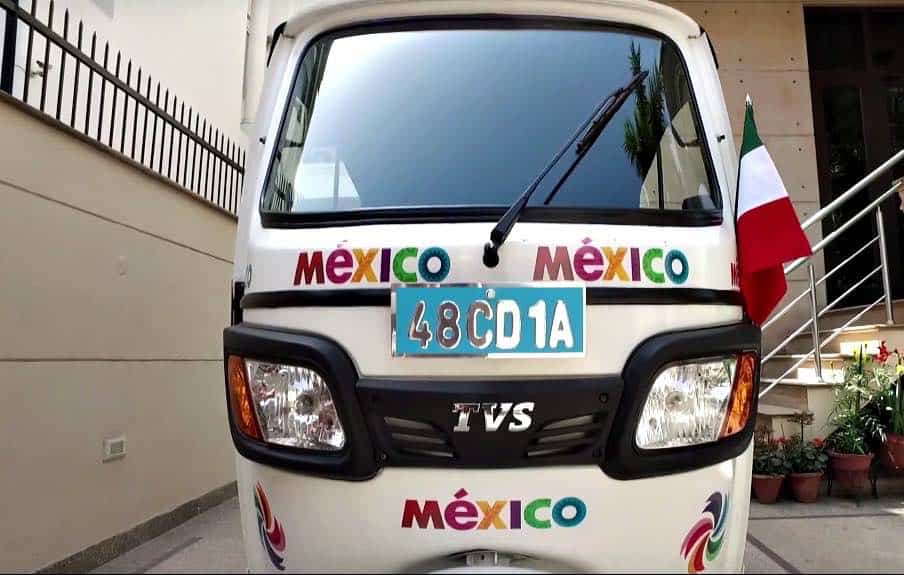 When asked she said, "Why not me? When everyone is dealing with the heat then why not me. Wherever I am, I have become part of this city." She believes that Indian roads are more bumpy and people are crazy while driving but she loves her auto rides. What about Delhi smog, her spokesperson said that she is fit and fine so she uses public transport.
The smog of Delhi requires proper equipped measures to deal with it and we do that. Difficulties There are quite a few protocols that an ambassador has to follow. Getting an auto was not an easy task. According to Ambassador Pria, "It wasn't easy to buy an auto as official vehicle.
We had to get permission from the Ministry of External Affairs and other government agencies." After a few rounds of paper-work she got the permission for an auto. But another problem arose. She couldn't get a driver. Generally, embassy provides a trained car driver. Chauffers  who drive as an Ambassador's driver feel proud of their job. This time Mexican Embassy was looking for an auto driver with proper training and uniform.
"It was a task. I tried to convince drivers about this work and their reputation. What I tried to tell them is, you are still the driver to an ambassador, but the ambassador chooses to have a different vehicle," said Melba Pria. Finally she got Jagdish Duggal as her official auto driver. Once when Melba Pria visited IHC (India Habitat Centre) to speak in an event on public transport, she had difficulty with her auto.
The envoy's official vehicle was denied parking space. Despite the intervention of the organizers of the event, the management of the IHC refused to grant permission. Mexico-India relations Her name Pria also sounds an Indian name. When asked what she feels about India and Mexico relation, she said, "Both our countries have a longstanding relationship.
Mexico was the first Latin American country to recognise India as an independent nation. We have good relationships, our trade flourishes, but we can do much more." She also informs that most of the time people call her Priya instead of her Mexican name Pria.
What is Mexico planning in India? She says, "Mexico supports 'Make in India', 'Skill India, 'Smart Cities' and other programmes currently undertaken by the Indian government. Also, we believe our country is one of the best places in the world to invest and do business, especially for Indian companies."