In the conduct of relations with a strategic neighbour – in this case, Bangladesh – the words of poet Thomas Gray 'Where ignorance is bliss, 'tis folly to be wise," will invariably prove to be disastrous. This is exactly what happened when Indian home minister Amit Shah told Anandabazar Patrika, the very largely circulated Bengali newspaper, that the poor across the border in Bangladesh did not get food since development there had not reached the grassroots. Shah went on to say that lack of development was one of the reasons why Bangladeshi infiltration was continuing and the infiltrators were not be found only in West Bengal but they were moving to other parts of the country, as far as Jammu and Kashmir. Expectedly, more than infiltration, the Indian home minister's observation about lack of development has caused outrage in Bangladesh.
Shah's comment came at a time when Bangladesh was celebrating 50 years of independence declared by the country's first president Sheikh Mujibur Rahman. On declaration of independence, the rump of Pakistani army stationed in the secessionist eastern part along with its paramilitary Razakar group killed up to 3 million Bengali speaking people, irrespective of their religion, and destroyed many assets. Moreover, during the liberation war, more than 10 million crossed the border into West Bengal and of whom around 1.5 million never returned to Bangladesh. As if all these cataclysmic events were not enough, nature in the form of cyclones and floods took a toll on the Bangladeshi economy. The US secretary of state Henry Kissinger who prevailed upon his president Richard Nixon to lend support to the Pakistani military government to suppress the Bengali revolt gleefully described Bangladesh as an "international basket case." Is Shah caught in a time warp that he is not aware of what has happened with the Bangladeshi economy since?
Such an excuse will not, however, wash since he has at his command an army of bureaucrats in Delhi and at the High Commission in Dhaka to keep him apprised of the economic and political developments across the border. During the no-holds-barred election campaign in West Bengal, which BJP somehow wants to wrest from the feisty Mamata Banerjee's Trinamool Congress, Shah must have found reason to say what he said to instill fear among Bengali Hindus. Did he think his observations would go unchallenged in Bangladesh or even here in some quarters? Bangladeshi foreign minister AK Abdul Momen was quick on his feet to say: "There are many wise people who will refuse to see even after looking and will not understand. But if he (Shah) has said something like that, I would say his knowledge about my country is very limited. People in my country don't die of hunger any longer. There is no seasonal poverty in the northern districts of Bangladesh either."
To counter the complaint relating to continuing illegal migration, Momen said "yes there are shortages of jobs for the educated. But that is not the case for less educated." What is implied, the educated have nothing to gain by illegally crossing the border and the others have gainful employment. Momen didn't forget to mention that over 100,000 Indians are working in Bangladesh. In any case, India has a large and growing commercial interest in Bangladesh.
In the logic of things, Shah making uncharitable remarks against Bangladesh and its people would invite angry responses from a senior minister like Momen.  He told leading Bangladeshi newspaper Prothom Alo that what all Shah said was "unacceptable and could create misunderstandings, especially when the two South Asian neighbours have such deep relationships." As it would happen, Shah said a few critical things about Bangladesh at a time when the world Press stood in admiration of the progress the nation, which suffered the worst ethnic cleansing operation by the Pakistani army since the Second World War, made in the past 50 years. In fact, Indian prime minister Narendra Modi who was in Dhaka to take part in independence celebrations had good words about that country and how Bangladeshis and Indians fought shoulder to shoulder during the liberation war.
Judge the progress of Bangladesh with a population of about 165 million and also perennially prone to natural calamities on the basis of social indicators of development. Bangladesh invited global attention as ahead of the Covid-19 pandemic, it clocked GDP growth of 7 percent for four years in a row and that was better than China and India. As we know Modi launched as part of the Swachh Bharat program in 2014 to build enough toilets by 2019 coinciding with the 150th birth anniversary of Mahatma Gandhi to put a stop to public defecation, particularly in the countryside.
It no doubt was an amazing feat that as many as 110 million toilets were built across the country in five years for use by half the population. What was, however, missing was a nationwide campaign to let people know of the possibility of contracting diseases, especially diarrhea from open defecation. Then in a country like India more than asset creation, the challenge is in its maintenance. In any case, picking up on public toilets, Momen said acerbically that compared with 50 percent of Indians having access to toilets, nearly 90 percent of Bangladeshis use latrines. No doubt Momen raised this particular subject to hit the BJP administration where it hurts the most. After all, Modi led the Swachh Bharat campaign from the front.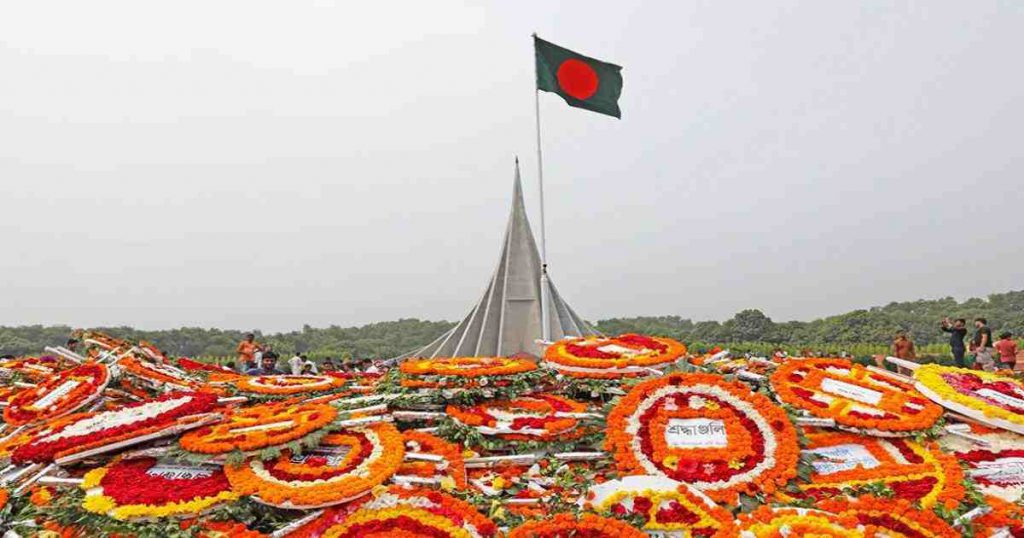 At our neighbour's half a century independence celebration time, we will do well to remember that from what appeared a wasteland at its birth when its per capita GDP was nearly 40 less than Pakistan, Bangladesh has come a long way. Through intelligent economic reforms and prudent use of domestic and whatever foreign resources it could mobilise today, it's per capita income is more than 40 percent higher than Pakistan. Not only that, Bangladesh with a per capita GDP of $1,855 is not far behind India's $2,099.6 (World Bank 2019 data). Ahead of Sheikh Hasina becoming prime minister in 2009, the country had been through political turmoil of all kinds, including military coups, extremist violence, and communal riots. Hasina may take credit for political and administrative stability. But she too is blamed for over centralisation of power with a penchant to silence voices of opposition. Even the media and social activists are not spared.
What, however, cannot be taken away from the present administration is to lift the country from the least developed to developing or lower-middle-income range country. Bangladesh has benefited considerably from the wise counsel available from 'Harvard' – rapid progress to the goal of universal toilet facility is one. Some non-resident Bangladeshis (NRBs) gave up their successful career abroad to create institutions like BRAC (Bangladesh Rural Advancement Committee), which has emerged as the world's largest NGO whose basic mission is the empowerment of people through region-specific meaningful social and economic programs. BRAC has set an example as to how an NGO could put young children in primary school, give healthcare in remote places and lift households from extreme poverty. And then you have Nobel peace prize winner Muhammad Yunus who founded Grameen Bank. The profound social impact that microfinancing continues to make in Bangladesh has encouraged many other countries, including India. Unfortunately, Yunus had to pay a price for his political ambition. That's an affront to democracy.