Avadhesh Singh (74), a retired engineer in New Delhi, never thought he would see the Ram temple being built at Ayodhya in his lifetime. Now, he has no other desire left in heart
I never thought I would see this day in my lifetime but I did. Watching the Ayodhya Ram Mandir bhoomi poojan ceremony live on television, on August 5, made me so emotional that I can't express it in words. Every time I think about it I have tears of joy in my eyes. I feel as if my life has served its purpose; there are no other desires left to be fulfilled. After the full telecast of the bhoomi poojan got over, utter peace descended on me.
Maybe the current generation won't understand what we feel for Ram Ji. He feels like a family member, a very important part of our lives. Ramlilas were an important part of small towns in North India for long and it would be every child's dream to be a participant in the Ramlila.
We embodied Ram, Sita, Lakshman, Hanuman and many other characters as well as their characteristics in these events. Everyone has a sense of attachment to one's birthplace and I feel at peace to know that Ram Ji will finally be established in his birthplace.
Babri Masjid was demolished in 1992. We all know how things dragged after that day. But I am surprised at how Modiji gets everything done calmly. To say that I am in awe of his communication skills and how he strategically goes ahead about everything, would be an understatement. There weren't even token protests on the day of the bhoomi poojan ceremony. Modiji ne apna vada poora kiya (Modiji fulfilled his promise).
I wish to visit Ayodhya soon. I hope the pandemic gets over and I can see the sanctum sanctorum with my own eyes. Modi hai to mumkin hai (Modi makes everything possible) were not just hollow words after all, you see.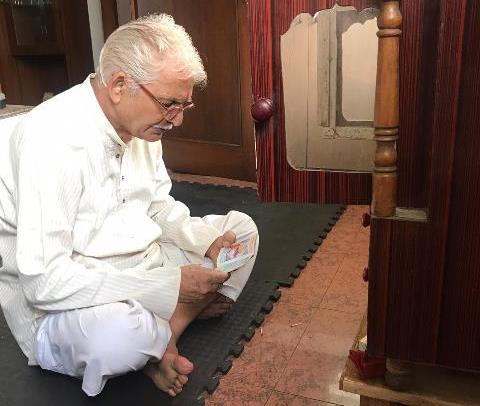 Yes, Ram lives on in our hearts but faith is too huge a concept to be felt just by the heart. Temples are an important place to calm our minds and make our hearts come alive. When you visit a place of historical importance, you can be transported into that era and wonder how things took place at that time. Similarly, being able to visit Ram Ji's birthplace would make us feel deeply connected to him.
Finally, after nearly 500 years, we can feel that sense of belonging. It took a long, long time for the Ram Mandir to finally begin taking shape, but it is happening.
I am a devout man and I have done a lot of vrats (fasting) in my life and regularly participate in many a religious ceremony. Rarely has a day gone by in my long life when I have put a morsel in mouth before my morning prayers. My aim is not to make anyone feel bad, but I want my space, to be able to practice my faith in my homeland. I hope many youngsters get reacquainted with the importance of faith in life in times as unpredictable and unprecedented as the pandemic.
I believe the Ram Mandir finally became a reality because of the faith of the people. I accept everything in my life as the will of God and as they say: Hoyi hai soi jo Ram rachi rakha (Everything happens as per God's will and in him we should trust.