Rashmi Singh, a 37-year-old banker in Kolkata, says going to work, household chores and distancing had begun to tell on her family when Cyclone Amphan added to their woes
I got transferred to Kolkata in July and from then on it has been a series of one readjustment after another. Just as my family of four (with two kids aged 5 and 8) was settling down to Kolkata's slow and languid pace after Bengaluru's fast- paced life that Coronavirus struck.
Being a banker, my work comes under essential services and there was no way work from home was an option for me. So every day during the lockdown I had to go to work. With no access to maids during the lockdown, it meant I had to do all the household chores and cooking before leaving for work.
Thankfully my husband has proved to be of tremendous support and also had the option to work from home, so he would (and always does) help in the household chores as much as he could and take care of the kids while I was at work. Commuting to office during lockdown was very difficult as one had very little access to cabs. Driving to work also wasn't an option. One didn't know what one was exposed to while at work.
And just when we thought we had got the lockdown figured out that Cyclone Amphan, one of the deadliest cyclones that India has ever seen, struck.
Thankfully due to technology we were informed beforehand of the havoc Amphan could wreak. The timing of the landfall had been predicted around 2.30 pm on Wednesday, May 20. And we were at work till 12 pm that day. Then we hurried back home as soon as we could. Thankfully the roads were empty because of both lockdown and Amphan. But around an hour after I reached home that mayhem started.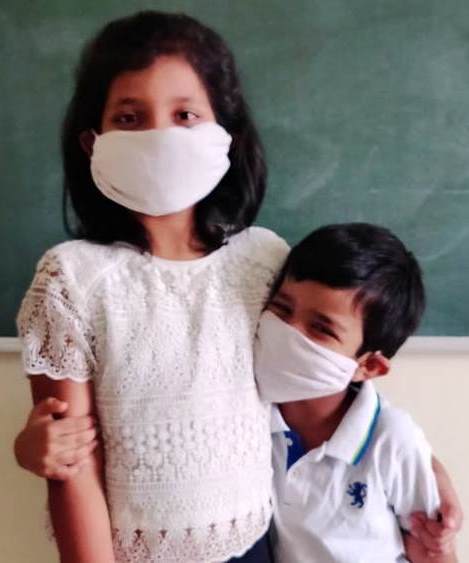 My kids, and to be honest, even I was terrified of the whooshing sound the storm was making. Our balcony had sliding windows, just like everyone else in our society. They made such rattling sounds as if they would fall off. One resident's AC unit actually fell off on a car. We could see scooties falling down and cars colliding with one another as their owners hadn't applied handbrakes after parking.
I live in a society in Tangra (which is near China Town) and thankfully our society RWA (Residents' Welfare Association) did a terrific job of handling both the lockdown as well as Amphan or the damages could have been much more.
We had one corona positive case in our society and the society president and his team did a wonderful job of streamlining everything. First of all it was ensured that there would be no discrimination against the person who tested positive and his family. Then a dedicated guard sat outside their house and would provide the family with everything they needed. Those of us who work in the essential services were also taken care of. Excel sheets were drawn up for the delivery of groceries to the whole society (around 1200 houses which means nearly 5,000 people). Each tower had 3-4 volunteers. Things were tough during lockdown but they could have been tougher if not for the RWA taking care of small things.
They did the same thing when Amphan struck. They drew a list of things that could be done to minimize damage. Everyone was asked to clear their balcony of potted plants or sharp objects. The water pump was switched on so that the basement parking wouldn't be flooded (many nearby societies found their basements flooded because they hadn't planned beforehand). Many more such steps were taken. Senior citizens and families with people with special needs were checked upon.
Work from home was impossible the next day as both the internet services as well as electricity supply had been affected. But while many areas of Kolkata are still suffering our LAN wire cables were repaired and the RWA had managed to supply electricity through generators. Sometimes I wonder if an RWA can be so efficient, why can't our governments be as proactive and prepared? And not only should they be prepared, they should also let people know that they are well-prepared so that people don't panic.
Kolkata taught me that we can do wonders if we come together as human beings. I couldn't have adjusted to so many quick and sudden changes without the help of our RWA. Amphan and coronavirus taught me that we should always be in tune with nature or nature will keep taking corrective measures like these. Time we understood we are a part of nature.