Sociologists and hardened journalists know it too well. No violent communal polarisation or riots, killings, arson and mayhem can last for more than a few hours if the local administration, the top police brass, and their bosses, don't want it.
It is impossible to stretch the bloody destruction of public and private property, ransack and burn schools, kill innocents in cold blood, or move as armed mobs shouting blood-thirsty slogans as a terroristic public spectacle, if the government of the day does not want it. In that sense, the onus of all communal violence in any locality across geographical zone lies with the administration and the law & order enforcement machinery.
Besides, there are grey zones in all kinds of violence which are driven by identity and hate politics. Riots can be termed 'spontaneous', based on years of conflict and tension, brewing and simmering, which suddenly flare up for no rational rhyme or reason. For instance, a tiff in a barber shop, a minor roadside accident, a heated argument, a mindless scuffle – they can all lead to spontaneous violence between communities. However, if this simmering conflict which is usually buried and allowed to pass, is stoked and instigated by interested lobbies for vested interests, with a certain diabolical twist in terms of motive, timing or location, then this spontaneous violence can be actually called socially and politically engineered.
There could be also situations that communal violence is engineered deliberately and with precise planning even in a totally peaceful scenario where communities have shared local space, public/social functions and festivals, trade and agriculture, friendship and neighbourhood life, for prolonged periods of peace and harmony. Then, a vicious mind can introduce a virus than can suddenly become an epidemic with help from certain planned and hidden factors, inflammatory speeches and rallies, and acquire brutish and nasty dimensions which can rip apart the harmonious social structures built painstakingly since decades. And, then, the wounds just refuse to heal, thereafter.
This is exactly what happened in Muzaffarnagar and Saharanpur and its highly fertile rural areas in western UP months before the 2014 Lok Sabha elections which never had a history of communal strife or conflict. This is a green revolution belt, with flourishing sugar cane and mustard fields, a stronghold of the inheritors of Jat leader and former prime minister Chaudhury Charan Singh, and stretches across the rich and laid-back townships and villages of Shamli, Kandhla, Baraut, Baghpat and Meerut. The BJP had no presence here, except among the trading communities in Saharanpur etc.
The engineered riots were galvanized using the fake news of 'Love Jihad'. That Muslims were enticing Hindu girls into love marriages, etc. This sparked off local violence, deaths, killings, mass rallies, mahapanchayats, inflammatory speeches and a vicious rupture that has never been witnessed ever in western UP.
The BJP's dream project materialized in the 2014 elections: the Hindus, from upper caste Jats to landless and divided Dalits, among others, united against the Muslims who were cornered and pushed to the wall. The BJP swept the elections here for the first time, while Charan Singh's followers, including his son, lost out badly.
At least 60,000 Muslims were rendered homeless. And it took a while, fact-finding teams, and some brave reporting by reporters, to prove the fact that the Love Jihad propaganda was a diabolical ploy which succeeded; there were casualties among both the communities though the Muslims took the brunt, and scores of Muslim women were assaulted. Some of the most militant and popular hardliners and rabble-rousers among the local BJP leadership emerged from this 'engineered' communal violence.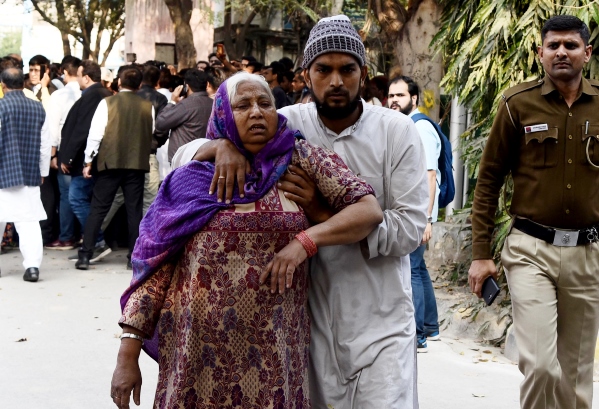 More sinister than this phenomenon is what is called a 'State-sponsored' communal carnage. This happens when the State itself aligns with a community or powerful lobbies or violent vigilante groups, and thereby unleashes concerted and relentless violence of the most grotesque kind against another community, its own citizens, for political, hegemonic and social reasons. This is nothing but ethnic cleansing in a certain transparent form, like the Whites did with the Blacks in America, the Serbs did with thousands of Muslims in Bosnia, the Taliban did with the Hazaras in Afghanistan, and what the ISIS and Wahabi Jihadis continue to do with the Yazidis, Kurds and other communities in Syria and the Middle-east.
This includes massacres, mass murders, killings as public spectacles and total destruction of life and property of the victim communities so that they are savaged and ravaged and can never find justice against the violence inflicted on their bodies, minds, families and homes.
This is what happened in 1984 in Delhi and in 2002 in Gujarat. This kind of ethnic cleansing is called a pogrom: master-minded, planned, organised and executed by the State machinery and its ideological and sundry goons, with the full power and might of the State apparatus against a helpless and innocent community. This is what happened to the Sikhs in Delhi in 1984 and Muslims in Gujarat in 2002.
A State-sponsored massacre.
This involves total destruction of their economy, shelter, community life, religious places and well-being, effectively rendering them as second/third class citizens, oppressed, brutalized and crushed.
In Delhi, for instance, the homes and shops of Sikhs were burnt and looted in full public view with the police either watching or becoming tacit and overt accomplices of the looters and murderers. In Trilokpuri, Sultanpuri, Jehangirpur, among other spots, where humble and modest, hard-working Sikhs lived simple lives, they were killed in the most macabre manner and their homes burnt. Gurudwars too were not spared. This was a Congress government sponsored massacre led by its politicians in Delhi with the full backing and support of the police and administration.
Besides, in other towns and public transport, Sikhs were hounded and killed. Indeed, it took decades to get a minimal sense of justice for those who suffered unimaginable tragedies and brutalities. The graphic realism of the massacre was made public in a report by the PUCL-PUDR, 'Who are the Guilty', perhaps the first decisive report of the bloodbath.
Unlike 1984, the Gujarat carnage of 2002, with Narendra Modi at the helm of affairs, was well documented from day one, though there was no social media at that time. Print and TV journalists did their job with precision and exposed the fault-lines where the violence was master-minded by the State, with its Bajrangi and Sanghi footsoldiers on the ground, enacting massacre after massacre, mass rapes and burning of women and children alive, hacking and burning of people, and organised mayhem with active support of the police machinery.
This reality has also been documented by several fact-finding teams, tribunals, filmmakers, among others. Some police officers testified about the dirty deeds of top politicians, and BJP leaders like Babu Bajrangi and Mayaben Kodnani were found guilty, among several local functionaries. For the BJP, it was yet another test of ethnic cleansing with State backing that would not only destroy the Muslims, but also reassert their masculine, xenophobic and Hindutva brand of politics.
This is exactly the 'Gujarat model' that they tried in Northeast Delhi last week. True, there were occasional retaliation and violence by Muslim youngsters, but by and large, this was a State-sponsored violence, with a loyal police in tandem, striking at will, burning and killing, destroying markets and schools, hosting a flag on top of a mosque, surrounding women and children, and running amok, like they did in Gujarat.
This could not have happened without the tacit and overt approval of the Union home minstry and Delhi Police. This could not have happened without the mobs being allowed full freedom to ravage and savage residential areas, shouting Jai Shri Ram, now a blood-thirsty war cry for masked goons with sticks guns, iron rods and petrol bombs.
People from both communities have died and a majority has died of gunshot wounds. Investigations are likely to be fudged in the days to come, as they did in Gujarat, but, still, the reality cannot be hidden. Indeed, it was Kapil Mishra who triggered the violence with his speech. That even the Delhi High Court is giving him space, after another judge had sought an FIR against him and other BJP leaders a day before, points to a certain pronounced institutional collapse of Indian democracy, where many believe that the Constitution itself is in danger.
In that sense, clearly, this was no CAA polarisation, though that was the pretense. The fact is that majority of the anti-CAA/NRC protests, including in Shaheen Bagh and all over Delhi, led by women, have been transparently and relentlessly peaceful.
Clearly, this was not spontaneous, as Amit Shah has claimed. Scores of innocents have died. The number will only increase. Surely, and tragically, this was brazenly and blatantly organsied for communal polarisation to target one community. This was State-sponsored. And the whole world knows whose first and final trump card this kind of organised hate politics is.