Bhavya Gautam, a 27-year-old lawyer, in Brahmpuri, northeast Delhi was hit by a bullet when he along with local youth tried to stop a mob from attacking a local temple
I lost my mother at a young age and was raised by my maternal uncle, Shankar Lal Gautam. My uncle tells me that our family shifted from Haryana to Brahmpuri in 1962. I was born here and have always considered Brahmpuri as home. Even the bullet that I received in my stomach on February 25 during communal riots is not going to change that.
Till a few weeks ago everything in Brahmpuri was normal. Peaceful life, friendly neighbours and life as usual. Then we heard about protesters occupying the area near Jaffrabad Metro station to create a Shaheen Bagh-style demonstration (on February 23). Brahmpuri is less than a kilometre from the protest site and as traffic issues cropped up due to the protest, the ripples reached our area too.
Things flared up on February 24 around 10 am and by the night, things had taken a scary turn. What started as a fight between pro- and anti CAA protesters soon took a communal colour. Our mohalla also became tense after news of a fight near Maujpur Metro station reached us. We were already taking preventive measures like guarding the entry points to our colony and keeping an eye on outsiders since morning. However, a mob still managed to reach a temple near my house and started throwing stones at it.
As local gathered to counter the mob, they took out firearms and shot at us multiple time to scare us away. Several of those trying to protect the temple go injured. I was also hit in my stomach. Thankfully, unlike as reported by other riot-hit areas, police reached our colony within 10-15 minutes of our making a distress call.
My friends were worried at my condition and one of them rushed me to Jag Pravesh Hospital (Shashtri Park, East Delhi) on a bike. I was bleeding during the journey but held on. Thankfully, we didn't meet any mob or obstructions on the way. After initial treatment, I was referred to Guru Teg Bahadur Hospital at Dilshad Garden.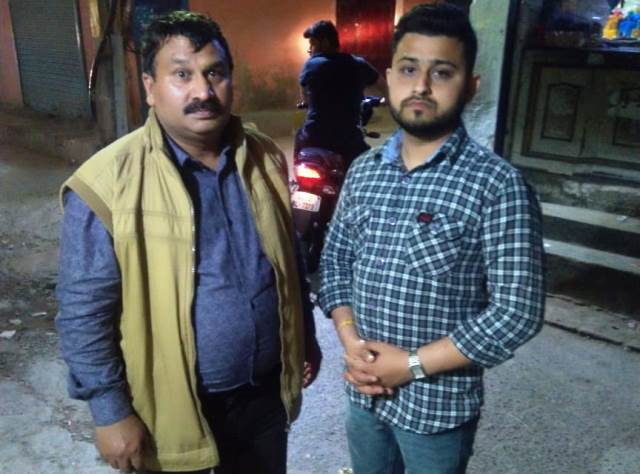 The hospital was already reeling under a rush of injured. Each of the bed was shared by two, even three victims for treatment. I was writhing in pain but there was not enough space to even turn on the bed. I kept on pleading with doctors to either discharge me or give me a proper bed as I had a bullet injury. Irked they discharged me but tagged my status as an "absconder". Since I am an advocate myself I know how serious this charge can be and I have put in an RTI application to know why this happened.
It has been nine days and I am just about beginning to put back the pieces of my life together. Let's hope my ordeal gets over soon and life gets back to normal for everyone.
(At the time of this copy being uploaded, Bhavya's uncle Shankar Lal Gautam who has access to the CCTVs in the area has been watching the footage minutely to observe if they can identify anyone from the attackers. The residents are weary and hurt but not scared. Gautam feels it will take a long time before life gets back to normal again in the area but he has faith in God.)