Aqsa Khursheed, a 19-year-old Political Science student, says the protest at Shaheen Bagh will not peter out because it is run by mothers who are battling for their children's well-being
The demonstration at Shaheen Bagh started on December 15 and there are no signs of the protest wearing off. It is amazing to see the sheer number of people and their steely strength to stay put for the cause. People from all religions have been registering their presence at the protest site. The protest site at Shaheen Bagh is a five minute walk from my place, so I have been witnessing it from the start.
While the women sit and sleep near the main stage, men form a circle or sort of human chain around the women to keep them safe. From 3-month-old babies to 12- year-old kids, the kids accompanying their mothers don't know that history is being created. We are working on Gandhian principles and you can call our protest as Satyagraha.
If you were to ask me what is giving the women of Shaheen Bagh the strength to carry on in this severe cold of Delhi, I would say it is maa ka jazba (a mother's passion). There is no power bigger or stronger than the love that a mother feels for her child.
Most women want a safer country for their children, and that is why they are here. Also, many women felt sad about the fact that they couldn't do much when the students at Jamia were being beaten up last month. They say that if their children (Jamia students) can stand fearlessly, they too can. Maaon ko thand nahi lagti (A mother knows not what cold weather is).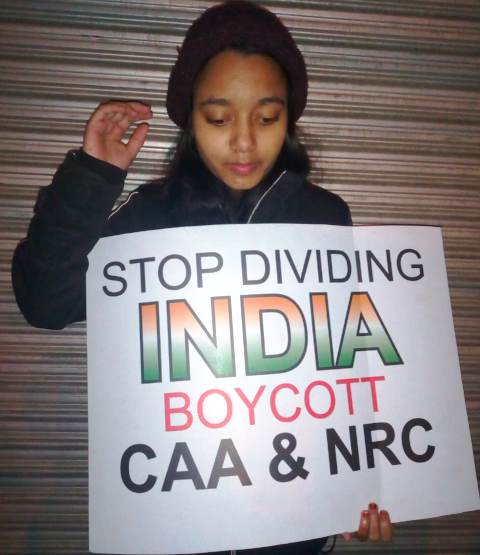 Shaheen Bagh in Delhi has become the epicentre of protests against Citizenship Act and NRC (National Register of Citizens) and we have assembled here to save the Constitution as well as our constitutional rights.
We are very well organised and connected. Several days back, there were reports that the police were trying to remove the protestors from the site, after a heavy police presence was seen in the area. Around 4 pm on Sunday (January 5) many police vans, buses etc had gathered up near the site. The word spread and in less than an hour, swarm of people began pouring in at Shaheen Bagh to show their solidarity with the protesters.
Shaheen Bagh has shown to what lengths people can go if they are determined about what they want. Menfolk aren't complaining about women being at the protest site day in and day out. It is heartening to see that my father, who till a few days ago didn't know how to cook, keeps on telling my mother, "You be comfortable and go to the protest site, I will take care of myself. I will make my own tea or the food that I want to eat." He thinks there is nothing more important for my mother than saving the Constitution.
The residents of Shaheen Bagh have opened their doors to anyone who comes to the protest site. The level of trust people have in each other is a beautiful experience. People from far off are coming to Shaheen Bagh. We are here to safeguard our fundamental rights as citizens of this country (Articles 14- 32 of the Constitution) and we hope the government will listen to us soon. We have faith that the situation will change, now that the people have woken up to both their rights and duties as citizens.