Monica Gill (32), an American model, actress and beauty pageant title holder left her flourishing career in glamour world to support Punjab farmers protesting against central laws
I started off my career in modelling at a very young age. I took a break during college years and after that I re-joined pageantry. I won Miss India Massachusetts, Miss India USA in 2013, and Miss India Worldwide 2014 after which I was picked up by Tips Industries to do Punjabi films.
I did Ambarsariya opposite Diljit Dosanjh, Kaptaan with Gippy Grewal. I made my Hindi film debut with the film Firangi. I then did Sat Shri Akaal England with Ammy Virk. My second Hindi film was a J P Dutta movie titled Paltan opposite Harshvardhan Rane. My last Punjabi film was Punjabi-language period drama Yaara Ve in 2019.
It was on the spur of an emotional moment that I decided to drop behind tinsel world and took up the cause of Punjab farmers battling against implementation of new Agri Laws. The single most important thing that led me to this decision was my grandma and her reaction. The farmers' protests started in June in Punjab and was going on for a while before the farmers moved to Delhi and pitched makeshift tents on various state borders.
When in November they moved from Punjab through Haryana towards Delhi, they faced unprecedented police and paramilitary brutality. Such was the intensity of police force that for my grandma it brought forth deep traumas within her from 1947, and from 1984, when Sikhs had faced largescale massacres. I knew that we had to win this battle for her; for those traumas heal. Otherwise she was going to die with this burden: "Is this world safe for my grandchildren?"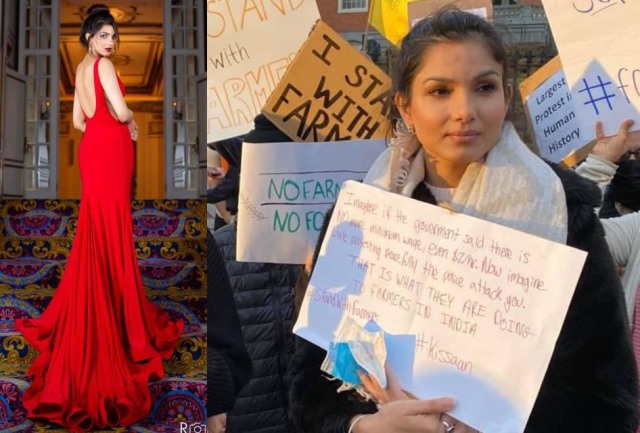 I wanted her to know that this isn't the same world that it was in 1947 or in 1984. This world is a better place. Yes, as Sikhs we are minorities but we are not helpless. We have people in so many powerful positions across the world that we can make a difference, and that is exactly what happened and I am grateful for that.
Leaving behind camera flashbulbs, I joined the Sikh Human Rights Group, an NGO with special consultative status at the UN. It has been a strong learning curve. I struggle at times because I am not an academic. I am not someone who come from a different background but my boss is quite patient with me and for that I am grateful. I have found a sense of peace working in the field of Human Rights. It is extremely fulfilling.
I consider myself lucky to have found this organisation which was willing to take me and give me a chance to learn and give me an opportunity to fight for my community. My family was supportive of me in making this career switch and I hope to stay in this field for a while.
My mantra in life is: your voice matters, you matter. If it wasn't for the diaspora and the youth waking up, the voice of the Indian farmers wouldn't have gone as loud as it did. One of my friends says that there is a Pakistan Punjab and there is an India Punjab but there is a third Punjab that lives throughout the world. And when Punjab is in turmoil that third Punjab rises up. And that voice cannot be shut down.
That is what the Indian government didn't understand. That third Punjab stood up and it was beautiful to see. So to all the youngsters reading this I just want to say: You matter, your voice matters. Rise up, speak up and create chaos.