B Bikram, a Bengali settler in Meghalaya, says a vigilante Khasi Students Union has been terrorising non-tribals in the state. "First they targeted Sikhs, now Bengalis," he tells LokMarg
So now, we have been formally declared Bangladeshis. In India. By those whom we saw growing up before us, whose fathers were our friends, college-mates our neighbours. It's altogether a different issue that we had moved in to Shillong at least seven decades back, some among us even more than a century ago.
But on the eve of Durga Puja this year, posters across the city put up by the Khasi Students' Union (KSU) are telling us that we the Bengalis in Meghalaya are Bangladeshis. It hurts. But immediate concern is more pressing: It scares.
One is reminded of the fateful Durga Puja of 1993 when a young girl was killed because the member of this very student union threw a petrol bomb on the taxi she was travelling in. Oh yes, in this part of the country, Students Unions can do that. They throw petrol bombs, burn alive people and do a range of vigilantism like checking on people's documents and certifying who is a legitimate citizen of India and, more importantly, who is not.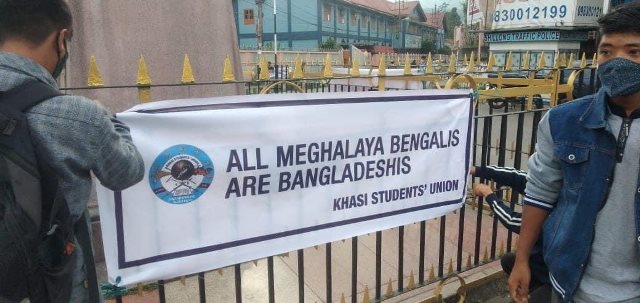 Yes, the police has kindly removed the "banners that were displayed on October 21 in public places". "We request all concerned to kindly cooperate with us in promoting peace and harmony in the state", the Police appealed too.
But the Pavlovian dog whistle is sounded. Bengalis in Meghalaya are now fair game. In December 2018, they targeted the Dalit Sikhs but the national outrage had ensured peace on that front.
While the non-tribal people settled in Meghalaya have been at the receiving end of the violent xenophobia since late seventies with periodic out bursts of violence, no one from the outside never really took note of it. After all the state sends only two MPs to Lok Sabha and the non-tribals hardly have any political role to play even in these two seats.
So when violence broke out in Ichamati early this year, its effects were hardly felt anywhere else. Eight months later, a young boy from the village calls up to say "Dada we have no way to earn a penny. Our shops have not been allowed to be opened in last eight months, we got no help from the government and no work even under MNREGA. We need to live but how?" Yes, the state government sent a team to investigate the "allegations" of harassments there which found nothing wrong.
But the youths who met the governor to appraise him of the situation found themselves named in FIRs for defaming the state. Seriously? FIR for making a representation to the Governor in a democracy? Well you better believe it.
Just like the way you will have to believe that the KSU president Lambokstar Margnar took umbrage over people writing about the situation in social media from outside and said: "Don't try to provoke and mislead the people of the state and if we react, it will be on them." Don't believe me? Read The Shillong Times, the oldest English daily of the North East that reported this on October 9.
It is festive season once again. Puja, Diwali and then Christmas. The year has been heavy on us. Cutting across ethno-religious fissures it is important that we all stand together now. Can we? Please?
When Pandits were evicted from Kashmir, the tremors were felt across the country. But in here, the process is slow and steady with clinical injection of threats, violence and intimidation. And at the forefront of it all is a student union. In another country, such organisation would perhaps be called a terror group