Shruti Gupta, an independent Chartered Accountant in Lucknow, says initiatives like emergency response and pink booths have made life safer for women in UP
I am a Chartered Accountant and till about a few years ago, I was working with a private company in Lucknow. Three years ago, I started my own firm, along with my husband (also a CA) and feel good about taking that decision. What caused this transition and gave me the confidence to take the plunge is directly associated with the law and order situation of Uttar Pradesh in general and Lucknow in particular.
When I was an employee, my daily concern was to wrap up work in time and reach home before it was dark. Even though Lucknow is a cultured city, traveling late for a woman alone caused concerns. Since accounts is stream where, several times in a year, workload get heavy, it would be stressful. This affected work and family both.
I always thought it would be better to start one's own independent business but everyone in the family and friends circles advised against us. For, it would mean dealing with unwanted elements, even paying up extortion money to avoid unpleasant incidents.
However, two years of Adityanath Yogi taking over as Chief Minister and we could see a change in the situation. Crime rates dropped and there was a marked improvement in the law and order, be it organised law-breakers or petty street incidents. I would say that CM Yogi didn't change the police staff but he changed the policing.
One particular incident on a late evening during lockdown sealed my decision to start my own accounting services setup. On that day, despite the lockdown, an important work warranted our physical presence in the office. By the time our work was wrapped up, it was dark and no scope of finding a public or private vehicle to return home.
ALSO READ: BJP Did Good Work In UP, But Also Polarised Society
We had heard of Yogi Govt initiative of emergency helpline 112 but were apprehensive about it, having seen how state services function in Uttar Pradesh. Yet, I took a chance and called the emergency response line.
Much to my surprise, a polite lady answered the call and patiently took down my details. I was told that help was on its way and the lady sub-inspector, Reena Choudhary, also gave her personal mobile number in case of any emergency. And lo, soon enough a PRV (Police Response Vehicle) van arrived at our office with female cops. I was dropped home with a request to avoid violating Covid curbs in future.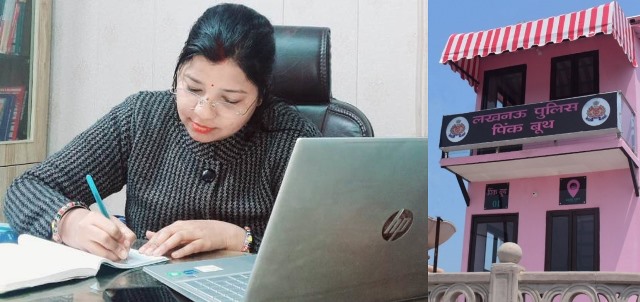 The same year, 24×7 Pink Police Booths, to assist women in distress emerged in the city. Such progressive steps were unimaginable in Uttar Pradesh. I needed no further persuasion to set up my own accounting firm. Having worked in the sector for three years, I could generate a respectable client base and, a few hiccups later, we soon reached a break-even point. From there, it was easy to turn corners and now I am happy to see a stable structure in place.
I sincerely want to thank the new dispensation in Lucknow to give the courage and confidence to a woman to start on her own. As I mentioned earlier, the change was not brought about by transferring of police personnel and placing one's own people in place, as was the norm in earlier governments, but by changing the policing system. With a vigilant police presence in the city, there is no scope for miscreants. It is heartening to see women in khaki guarding the nook and corner of Lucknow on swift-moving pink scootys.
The stress and silly mistakes that came with it are now a thing of the past. I have a much relaxed work atmosphere and there is peace of mind. Parents and relatives, who were opposed to the idea of launching a business venture in UP, are happy and satisfied now. Discipline flows from the top and this is what we saw in last five years.
As told to Rajat Rai