Iconic moments captured on camera often express a historical event which shakes the conscience of the civil society for all times to come. Captured in a fleeting flash, they remain etched in public memory: the Afghan girl, Sharbat Gula, then nameless, shot by Steve McCurry in June 1985 in a Pakistani refugee camp, celebrated on the cover of National Geographic; one thin man standing in defiance against a row of tanks at Tiananmen Square in Beijing, June 1989; earlier than that, naked children running from a napalm bomb during the Vietnam war; and Che Guevara's dead body somewhere in a jungle in Bolivia, shot dead by CIA mercenaries.
In contemporary India, as thousands of farmers wait steadfastly at the Delhi-Haryana-UP borders, deciding their next move, some images have already captured the imagination: A dignified old Sikh farmer, totally non-violent, with flowing white beard, in a white kurta -pyjama and jacket, being threatened by a young, wiry cop, belligerent, aggressive and remorseless, his fingers clenched around a rod, his body tensed up with machismo and power.
There are other iconic images too of the struggle:  a young protester jumping from a trolley to a police water cannon vehicle, switching off the tap showering dirty water on a cold day on farmers, and jumping back. (He and his father have reportedly been charged now for murder)
Many endearing moments have arrived yet again: women and men cooking in community kitchens on the highway; women driving a convoy of tractors in protest; and farmers giving food and water to grateful cops.
The last image would have been appreciated by the likes of Nelson Mandela, Martin Luther King and Mahatma Gandhi. This is because the cops, many of them children of hardworking farmers from humble rural backgrounds, had earlier gone all out against the peaceful protesters. They had drenched them with water, in this cold, teargassed them, threatened them with lathis, dug medieval war-like trenches, brought in iron barricades, sand and mud trucks, huge cement slabs, sand bag walls, ship containers, barbed wires, and an endless row of cops in full gear, ready to charge.
The farmers have been protesting in Punjab and Haryana since September. November 26 was a national protest day organized jointly by farmer organisations and trade unions against the labour laws being unilaterally enacted by the Centre despite the economic collapse and mass unemployment of millions in the organized and informal sector. These might include draconian provisions like hire and fire, 12 hours work, mass sackings, major changes in pro-worker acts like the Inter-state Migrant Workers Act, Contract Workers Act, the Factories Act, the Industrial Disputes Act, etc, and changes in wages, safety and compensation, while contractors will be calling the shots with no regulations. These trade unions are also opposing unbridled privatisation of the public sector, including banks, railways and airports, whereby certain favoured industrialists of the ruling regime in Delhi are being brazenly backed.
Significantly, there are more than 250 farmers' organization in the All India Kisan Sangharsh Coordination Committee, and they actually joined hands with the workers on November 26 all over the country, including in West Bengal and South India. The farmers march to Delhi from Punjab and Haryana, and also other Hindi heartland states like Uttarakhand, UP and Rajasthan, however, became the epicenter of this mass uprising, and it is not going to die down so soon.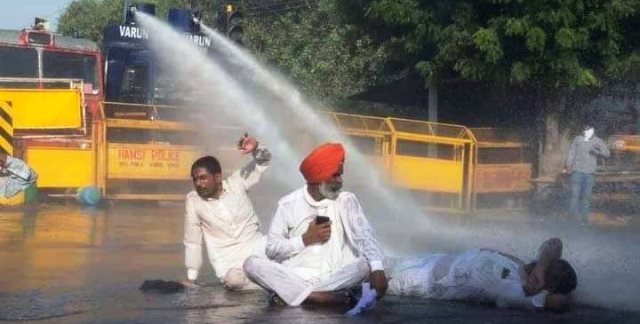 The question is, why the government is so adamant after pushing the three farm bills in Parliament without consensus? Why is it refusing to make the MSP a law? And why is it so rigidly refusing to budge, to negotiate with flexibility, using strong-arm tactics? What is that unsurmountable, one-dimensional pressure on the Narendra Modi regime that it is ready to alienate farmers, while choosing to block, barricade and brutalise them?
"The BJP government is toeing the line of corporate cronies," said Vijoo Krishnan, speaking to Lokmarg. He is a top leader of the Left-led All India Kisan Sabha, which led the massive long march of farmers to Mumbai. "The intention of this government is total corporatization of Indian agriculture. But the resistance is unprecedented. Except for the BJP and RSS unions, all other workers and farmers' unions have joined this resistance. Even state governments like Punjab and Rajasthan are exercising their federal rights in support of the farmers. Kerala has declared MSP for 16 agricultural products, and has protected the farmers during and after the lockdown. Besides, it is providing food to 90 lakh people, including 'guest workers' (migrant workers)."
Farmer leader J Hooda from Shamli, Western UP, speaking to Lokmarg at the UP-Delhi barricades, said: "The farmers have always known their sinister motives – to sell our land and agriculture to corporates. Modi is doing precisely that to favour his favourite industrialists. Now the farmers are not going to relent. Drop the farm bills. Make a new law on MSP."
Hooda says the farmer makes huge losses in the open market, because it is based on market whims, unscrupulous private players and demand and supply ratio. Often, distress sale becomes a norm. Without government support in states, or a central MSP, farmers will be doomed. "They want to abolish local mandis. So where will we go to sell our produce – can we compete in the international market with massive, mechanized farming and huge multinational farmer lobbies? Why are they pushing us into the hands of unethical corporates who are now trying to capture Indian agriculture through the backdoor backed by the BJP regime?"
Indeed, while Punjab and Haryana (with UP and MP) are the biggest producers of rice and wheat, there are 23 crops, including cereals, pulses, commercial crops, on the list. India is 80 per cent agriculture – the food chain begins at the land of the tiller and ends long distances in metros and small towns. In this complex and long chain, thousands of people are involved: farmers, entire families, landless farmers and sharecroppers, small and middle farmers, local services and ancillary networks, small markets, shopkeepers, loaders, truckers, workers, mandis, mills and factories, small scale and big industries, and others. It's corporate and government propaganda that only 6 per cent of rich farmers are benefitting from MSP. What about the millions integrated to the entire process till the food reaches your table? ask farmers.
Argues Vijoo Krishnan: "MSP ensures at least that much for farmers if public procurement is there. In states where there is no effective public procurement, farmers get paid even below the MSP. For instance, while the MSP of paddy is around Rs 1860 per quintal in Bihar, Odisha etc, farmers are forced to sell at Rs 1000-1200 per quintal."
Farmers are also arguing that even the MSP, based on state averages, is arbitrary. Kerala pays many times more per quintal for paddy, and the crop produce costs vary from state to state. But the government refuses to usher in serious policy changes for large scale benefits to the vast rural sector, even while pampering and subsidising big industrialists and waiving off their debts etc, while facilitating lucrative contracts for them, like the privatisation of airports and railways, or the Rafael deal.
Farmer are angry that the government is shy on implementing the comprehensive Swaminathan Commission recommendations, including the guarantee of 50 per cent more than the stated MSP, among other reforms, like compensating for land, labour, seed, pesticides, fertilisers, diesel, electricity, water, tractors, machines, and other things needed for agriculture. They are asking why the government has not returned the GST to them on all the additional things they have used for agriculture.
Indian economy is in crisis because crony capitalism by profit sharks have ravaged it with no signs of recovery during the pandemic. Now they are greedily eyeing the post-independence public sector and agriculture. If the farmers are driven to the edge, for the benefit of favoured industrialists and powerful MNCs, then there is no option left for them but to fight back. That is why, as of now, it is a do or die struggle for the thousands of defiant and non-violent farmers, now steadfast at the borders of the capital of India.