Mohammad Haroon, 50, a Rohingya from Myanmar, says he is grateful to have found shelter and safety in Okhla, New Delhi some five years back. However, he is worried about "new laws" that seek to leave them homeless once again.
Nobody wants to leave his or her ancestral land unless there are severe compulsions. Rohingya Muslims are no exception. We fled our motherland about five years back. The military-led government of Myanmar was trying to kill us all, charging the entire Rohingya community with involvement in terrorist activities. Village after villages were burnt down, our people were chased away or taken to custody and tortured.
Many of our people were killed in cold blood and labeled as terrorist without any trial. The country's regime did not want us. There was state-sponsored ethnic cleansing happening in Rohingya-dominated Rakhine. We were left with no other choice than to pack our belongings on a dreaded night and leave before the military could knock on our doors.
Some of us managed to cross the border first to Bangladesh and from there to India. Doing odd jobs, my family made our journey to Delhi for better means of living. But of late, for several months, we hear the talks about throwing out infiltrators, illegal migrants from India. Do Indians not have the heart to show some sympathy for a persecuted community? I want to ask all Indians from your platform: Why can't we live here?
Most of the Rohingyas living in India are working in garbage disposal sector. Most of us are in the business of collecting garbage and segregating them for bigger contractors. We are helping this country keep clean. There is no harm if we continue with our business.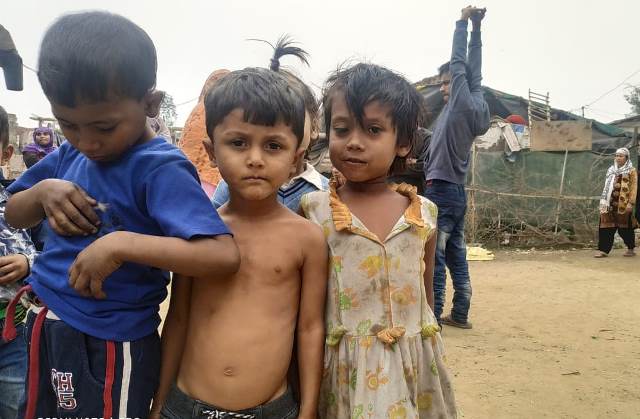 We earn just enough to feed ourselves. We are poor. Our kids don't have proper clothing for winters. We have actually never faced such winters before we came to Delhi.
The winters in Myanmar are mild and, often, pleasant. Not as harsh as here in Delhi. Since we do not live in pucca houses, the wind at night makes it worse. But home is where safety is, where acceptance is.
Many media persons come here to interview us. We show them the condition of our houses. They are all made of bamboos and polythene. We live in conditions very similar to the Hindu refugees who came from Pakistan. But now, with passing of the new law, they will be accepted as citizens, while we will continue to be refugees.
We have been repeatedly requesting the Indian government to give us citizenship, considering us as refugees. We do not want to live in fear, that's all. We just want to live our lives peacefully and don't want our children to face what we have faced in Myanmar.
We worry for our children. Thanks to the diverse culture of this country, we are not seen as outsiders mostly. Yes, we do face several hardships because we do not have any identification documents. But we are grateful to this nation as we are at least alive here. Even if our children become rag-pickers, they will at least be alive here in India.