Digambar Singh, a farmer from Bhadana, Punjab, says Narendra Modi machinery underestimated their resolve in putting up a brave fight against Central laws
Iss bar to aar-par ki ladai hai (It is a do or die situation this time). Just how much can the farmer bear? Some things are better left out of the purview of corporates. We are sons of the soil and we understand the land and its needs much better than corporates. The land we till is our mother, and not a profit making machine, even though we all like to earn well.
When I set out from Bhadana (Punjab) to reach Delhi for protest against the Central Agriculture Laws, I was sad to see that midway in Haryana, the roads had been dug overnight so that we couldn't reach the protest sites. Heavy concrete barricades had also been placed to block us. Farmers were also being badmouthed. Tear gas, water cannons, lathicharge… but our resolve was firm. Nothing is going to stop us this time.
The government says the various laws are for our benefit and will open up bigger and better markets for us. But if I am a farmer who grows his crops in Punjab, should I go and check out the bigger, better markets in, say, Karnataka or should I be busy sowing the crops? There is already a system in place (adhatiyas) for purchase of our crops and the farmers have been reaping its benefits because of a guaranteed MSP.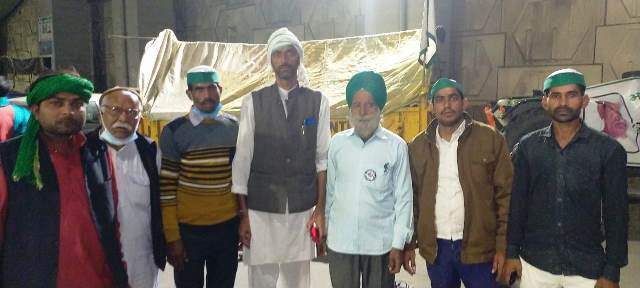 Why try fix a thing that isn't broken in the first place? You may improve on the existing processes but why do a complete overhaul and that too without proper dialogue with the parties concerned. Farming requires groundwork but the new laws are silent on MSP.
At present I am at the UP Gate (Delhi-UP Ghazipur border) with fellow farmers to register my protest and if the government is going to ignore our voice, then we will also ignore their voice during elections. Fir satta se bahar jane ki taiyari kar lein wo (They better be prepared to stay out of power in that case). Farmers across the country have been committing suicide for many years now and this year the Coronavirus has wreaked a deadly blow to our income. This is the time to protect farmers and let them know they are valued.
The nights here are cold, but we are well-prepared. We have brought rations to last us for a few days and we have also brought bhattis along to cook the food. Let's see for how long we will need to protest. Sometimes you have to muster up all the strength you have to survive. We are not scared of Coronavirus even though we are taking all necessary precautions.
Our kids have lost precious study time, as rural households don't have easy access to online learning. Our old parents are suffering. I hear the hospitals are in bad shape due to the pandemic pressure. Par jab marna hi hai to kyu na ladte mara jaye (But if we are destined to die, we shall put up a brave fight?). If the government really wants to help farmers, why not do it directly by strengthening the health and education systems in rural, agrarian zones?