Poonam Singh, 47, a Yoga teacher and activist in Delhi, says toxic water and filthy ghats heaped misery on Chhath devotees like her for years
Chhath is considered a Mahaparv or the festival of festivals. However, the amount of pollution we have had to navigate over the years to be able to perform this holy ritual is unimaginable. I stay in east Delhi and I have been holding the Chhath puja for 24 years (since 1997) mostly at Yamuna Pushta area. And not once did I find the Yamuna ghat without toxic waste, filth and muck – absolutely unworthy for holding a religious ritual.
In 2018, I got a chance to perform Chhath at Hrishikesh and I marvelled at the experience. A clean river in its glorious flow can lift your spirits. It makes you calmer as you are not worrying about the toxicity of the water or stepping upon dirt and filth. Last year when Covid happened, many devotees (including me) tried to improvise and recreate small water bodies on our terraces. However, even though the water was clean, the community feeling was missing. People couldn't meet each other, or guide and help each other in this festival. This year also I am performing the Chhath on our terrace, simply because the condition of the Yamuna is unbecoming of hosting a sacred ceremony.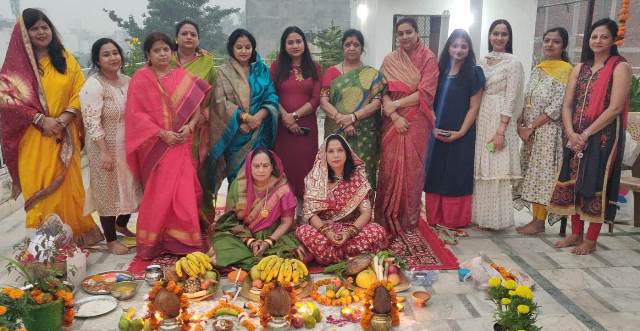 I still remember how it used to feel when we had to go through the mud and slush in order to reach the ghat. Since 2016, apart from the dirty water, the air pollution added to the misery; it became unbearable to stand in the water for long stretches of time and inhaling the pungent air. We all could smell the toxic fumes coming from the river.
Plus, there would be too many people jostling for space. My eyes used to burn and water a lot, and I had severe skin irritation the following days. In order to save our health, I used to take clean water from home for the evening and morning arghya (water offering).
ALSO READ: 'Govts Must Know The Values Behind Chhath'
Only last year I became the president of the Delhi chapter of a Kanpur-based NGO called Paryavaran Suraksha Sansthan and hope that in the future we can take care of the issue of clean rivers and ghats. But it's beyond the capacity of one NGO to tackle the issue. We need serious, collective efforts. Doing Chhath on the terrace is also no easy task given the pollution levels. So much effort is made to create pandals, install loudspeakers, give a holiday etc. but no efforts are made to give devotees their most basic need: clean water and air.
I somehow feel our lifestyle was earlier closer to nature. As the Chhath festival signifies, the season change was marked with immunity boosting foods and mentally preparing oneself for the bleak, cold winter months ahead. We need to go back to a more nature-friendly lifestyle. Serious dialogues are the need of the hour between government and civil society. Climate change is an issue of serious concern and we shouldn't take it lightly.
As Told To Yog Maya Singh