Anita Kumari, a 42-year-old auxiliary nurse & midwife in Jharkhand, says masks have come down and social distancing gone for a toss but Covid is not over yet
I have been in the medical profession for nearly 15 years now, but never have I seen anything as devastating as the coronavirus, and the various mutations that it springs upon us from time to time. The Delta variant, the Omicron variant, who knows what other variants are lurking around us. I wish people took more care to wear masks and sanitise hands. The prevention is easy (at least the virus doesn't have as debilitating an effect) but the cure and treatment is difficult. The public mindset is such that they give up once the peak number of cases come down.
This lackadaisical attitude proved to be so deadly during the second wave. Then we frontline workers are left to pick up the pieces and put ourselves and our own health at greater risk of catching the virus. My Covid duty is to administer vaccines to people. We are a five-member team that administers vaccines to people.
Earlier we would be giving these doses at dedicated centres but now we have to go from home to home. We need to collectively step up on our public duty of wearing masks, getting our tests done if the symptoms arise, otherwise a third wave is imminent.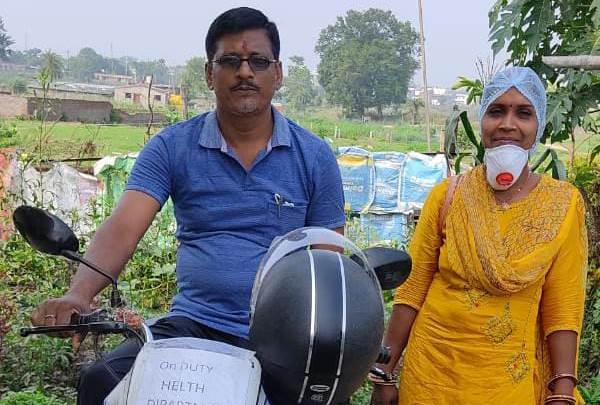 The general public should understand that the pandemic has been very challenging for frontline workers. When people are in lockdown at home, we still have to go about our duty. We have to convince people to take vaccines and it's not an easy thing to do, especially for the elderly population, or even those above 45.
ALSO READ: 'We Haven't Learnt Anything From Previous Waves'
I am happy that those from 18-45 age group have shown tremendous enthusiasm as well as a sense of public duty when it comes to vaccines. Seeing them many in the 45+ age group have been inspired to co-operate. We have to travel in public transport and come rain or sun, we cannot relax. Sometimes even Sundays are working and then we have to take care of our household responsibilities as well.
The general public needs to understand that the government and healthcare workers are all trying their best to tackle the virus but without the cooperation of people it cannot be defeated. Immediate isolation and treatment are very important. I myself caught the virus during April this year and suffered. Many others can take more time off to recover, but healthcare workers have to report on duty after the quarantine period.
People's attitude are at their careless worst in public transport. They feel they don't need to wear masks while commuting or walking on the roads and you can't ask them to follow those protocols because many time people pick up fights. We have seen how much healthcare workers have had to suffer during the pandemic. Each person is important in the war against Covid and its many variants. We are all in this together. I commute long distance every day to get to work. It would be nice if the public walked the path of social responsibility too.
As told to Yog Maya Singh