Yusuf Kirmani, a senior journalist and political analyst, says independent voices are facing oppression at the hands of state agencies today
On 15th August 1947, India got freedom from British rule. It wasn't just the freedom from the Britishers but also freedom of speech, expression, movement, among other things. The freedom we took, after more than a century of struggle, is withering away and at the brink of collapse. This government is against all the freedom which we won from the British Raj in 1947.
The hounding of Mohammad Zubair is an open case of the government's attempt to take away the freedom of speech and expression from people. The Delhi Police lodged an FIR under IPC Section 153-A (promoting enmity between different groups) and 295-A (malicious acts, intended to outrage religious feelings) against Zubair earlier this month. The entire case against him is fabricated. There is little truth in it.
Since 2017, Zubair and Pratik Sinha have been busting fake news via their AltNews platform. During these years, they exposed the false propaganda of various political leaders and parties. The BJP and its leaders were found propagating fake news and propaganda clips many a time. But when AltNews exposed the lies and propaganda of the BJP as political party itself, the 'Empire' hit back with state might.
In the past two years, there were several FIRs registered against him in BJP-ruled Uttar Pradesh. But this time, the Delhi Police, which works under the Centre, decided to proceed with a newly lodged case and arrest Zubair. The government was looking for an opportunity to implicate him and they finally found it.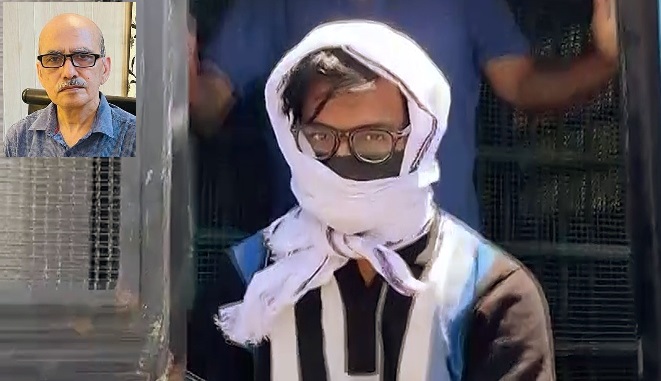 The role of the judiciary is now under scanner. The current situation demands unprecedented action from the judiciary, which we are yet to witness. In Zubair's case, the court noticed how fresh FIRs were being filed against him in UP after the arrest, but it overlooked the malicious intent behind it. The court should have taken a suo moto cognizance of it. The court must have asked the Delhi Police why they called Zubair in connection with one case and arrested him in another.
When pillars of democracy are crumbling, a handful of independent media are fighting to save the freedom of speech and expression on behalf of 1.3 billion people. In this process, they are also facing oppression at the hands of the state. The case against Zubair is an example.
In the past, the media organizations like The Wire, NewsClick, News Laundry, and others, who are asking tough questions from the government, have been raided by state agencies. The sole aim behind the harassment is to stifle the independent voice in this country.
Sadly, the people of this country are unable to recognize their saviour. People don't realize how they are losing their right to information by supporting 'Godi' media and opposing the likes of Zubair and The Wire.
When all forces are against us and are in an opportunity to take away our freedom, I remember an old song by Mohammad Rafi. "Apni Aazadi Ko Hum Hargiz Mita Sakte Nahi, Sar Kata Sakte Hain Lekin Sar Jhuka Sakte Nahi. Humne Sadiyon Mein Ye Azaadi Ki Nemat Payi Hai, Saikdon Qurbaniyan De Kar Ye Daulat Payi Hai."
As told to Md Tausif Alam