Shefali Malhotra, 40, a Noida-based entrepreneur and mother of a 10-year old, says she is both happy and anxious about the soon-to-be-rolled out Covid vaccines for children in India
I'm very relieved that finally a vaccine has been rolled out for children. In fact not one but two: Covaxin and ZyCovD. While the government has confirmed the use of ZyCovD in the immunisation drive for children from 2-18, the final decision is still awaited in the case of Covaxin. As a mother of a young child this is heartening news for me.
The third wave has been predicted after the festive season and it is being said that the paediatric population would be more at risk during the third wave. So it's great news that the clinical trials of the vaccines have been done and they might be rolled out for children soon.
My only child, Samarth, is 10. So, my husband and I kept wondering when his turn for the jab would come. However, we don't plan to rush in and get our son vaccinated once the process starts, even though clinical trials on different age groups of children have been thoroughly done. We plan to wait and watch, though not for too long. Call it a balanced, pragmatic approach if you will.
As a mother of a young child, one does get apprehensive about what side effects these vaccines might carry. These are growing kids and as such their bodies are going to react differently than that of adults. Moreover, their immunity isn't as strong as that of grown-ups that they can fight back well in case of severe side effects.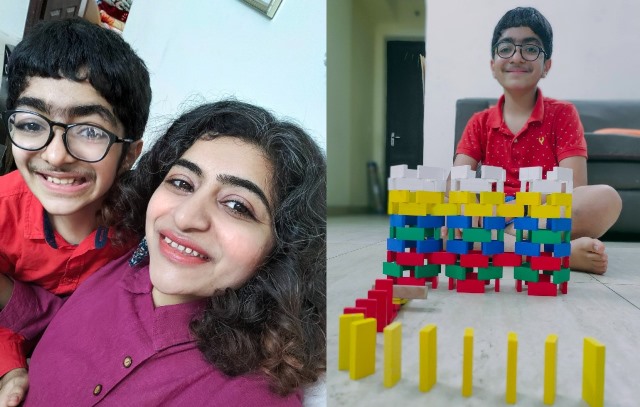 So in my opinion, we should be extra careful and do our research well before the vaccine can be administered. We should choose properly which vaccine we want our kid to be administered. One is prepared for the mild fever, body aches etc. but I would ensure I properly communicate with my child both before and after the vaccination to ensure the whole process is smooth for him.
In the past two years the kids haven't been exposed to the elements much and their physical activities have gone down because they were cooped up inside the house for most part of the pandemic. There were reports/studies that since kids didn't go out and play in the open, their immunity has taken a nosedive. Many of them have gained weight too because of lack of exercise and yet many others didn't know how to manage their feelings of not being able to go out, go to school, meet friends. Kids have had a more difficult time making sense of the pandemic.
I ensured that I was communicating well with my child throughout the pandemic. That way he wouldn't be apprehensive or afraid of vaccination because he has most of his questions answered by his parents. We need to ease our kids into the vaccination process.
Also, the timing will be important. During my vaccination in May, I had a wisdom tooth issue. But I decided to go ahead and get my shot before getting the tooth extracted, though it aggravated my pain. I wouldn't want my kid to go through any pain, just like any parent. My husband and I had spaced out our doses so that one parent would be in a good condition to take care of the child. If someone has more than one child, they should space out the doses of their children so they could be taken care of well.
I am happy that my child has begun to participate in outdoor activities like cycling, badminton etc. and I want him to have his childhood back. The two years that went without play, hope the vaccines will make up for that. His school has opened, though not fully, and vaccination would mean our child is safe in any surrounding. I hope the pandemic gets fully over soon.
As Told To Yog Maya Singh