Gurpreet Wasi, a volunteer at Singhu border protest site, recounts what happened a day ahead of the Tractor Rally and how the Machiavellian state led the farmers into a trap
I am an ordinary citizen of India. I have been on ground since the day farmers set up camps around Delhi in November 2020, as a Khalsa Aid volunteer. Lakhs of farmer camping in the bitter cold of Delhi is a humanitarian crisis. Getting up to help them was a natural reaction as well as a debt I owe to Punjab, the birthplace of my parents.
The Tractor March was a historic event, hitherto unseen in modern India. Around 2 lakh tractors, and 7-9 lakh famers, asserted their right to walk the national capital, mark the Republic Day, and renew our pledge to live by the Constitution of India. The Sanyukt Kisan Morcha, a joint front of 40 farmer unions, and police authorities had agreed upon a route and the parade was to begin around noon.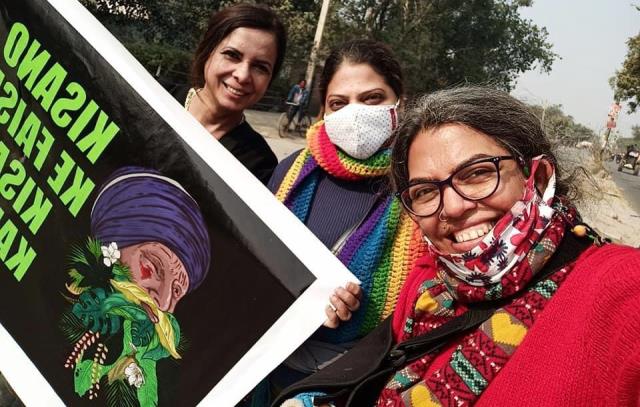 On the eve of the Parade, I went to Singhu border to distribute tricolor turban materials to make the march spectacular. My friends had helped me put together green, white and kesari turbans. I was there when a faction of people, who are not part of the Morcha, suddenly announced that they won't follow the route decided between the authorities and the Morcha. Deep Sidhu, a known BJP mole, appeared on stage with the help of a group of Nihangs, with a provocative speech.
I returned a bit wrecked, a bulk of the turbans still in my car. I could not sleep a wink that night trying to estimate the impending danger of this adverse turn.
Deep Sidhu is a familiar name at the protest; farmers never trusted his intentions or his suddenly developed 'Sikhi'. His affiliation with BJP was not hidden. Yet, over the months he had gathered a following of adrenalin-high youngsters.
I also received a message from a friend that a media insider had told her that 'action would start early in the day'. True to her 'insider tip' a group of farmers (not part of Morcha) appeared on the borders at 8 AM as did empty DTC buses so that 'public property' could be damaged conveniently and captured on camera.
And before you know it, TV screens were awash with aggressive protesters entering the Red Fort. A religious flag (Nishan Sahib) was tied on a conveniently vacant pole to prove that the protesters are Khalistan supporters – a narrative this government has been trying to push from the beginning. The farmers had literally walked into a dangerous trap laid out for them.
The irony is that all 40 farmer unions started the Tractor Parade on the route agreed upon and at scheduled time. Along with a group of friends, I witnessed this peaceful parade for hours together. People of Delhi were showering flowers on them. But not a single TV channel covered this official tractor parade.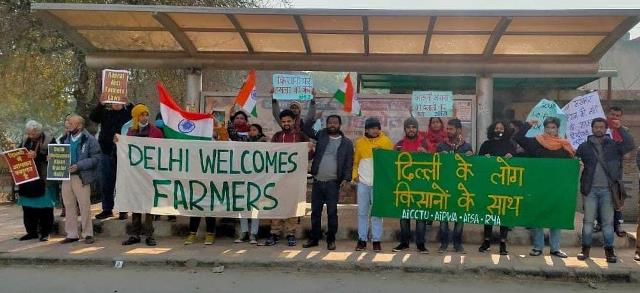 Social media anarchists had been in convulsions about the leniency of Delhi Police and Supreme Court in 'allowing' the parade. Now, we know that the soft gloves were hiding daggers underneath. The farmer's historic parade went horribly wrong; they returned disappointed and bewildered, wondering if their 63 days of penance in Delhi was undone in a single masterstroke of the Machiavellian State.
There are questions that beg answers. Who gave access to Deep Sidhu into a fortress like Red Fort, that too on Republic Day? Who opened its locked Iron doors? Troops were seen falling off the walls of Red Fort like matchsticks. How did anyone so strategically place a camera on the adjacent side to catch the drama? Is this a Netflix soap?
Why were some tractors turned around at Nangloi and not allowed to move to Najafgarh as planned? Why did police barricade routes to Akshardam and Geeta Colony that had been approved for the parade? Was it to create confusion? Tell me who is the biggest beneficiary from this situation? You will have all the answers there.
Do you think the farmers would throw away months of their sacrifice to a few moments of madness? How can it make sense to anyone but those who are without reason, without a shred of humanity? Don't you see this is most dangerous conspiracy and machination to sabotage the Farmers' protests?
This sordid dance of a failed democracy was amplified on the mouthpiece TV channels. I am sure all of us who stayed home watched it, some with glee and others with dismay and disgust.
Most of the farmers thought that most Indians were looking at their plight with sympathy and that India knows that they stayed non-violent. But at the end of the day when they returned to base, broken and badgered in body and spirit, 'Dilli' had painted them and the most generous community of India as goons and terrorists.
It's a tragedy to witness simple, gullible farmers who travelled from faraway places like Tamil Nadu, Maharashtra, Orissa, Punjab and Haryana who decorated their tractors to Delhi Roads to make their parade their voice, were made scapegoats on the altar of politics.
As told to Mamta Sharma