Jarmanjeet Singh, 21, son of a farmer from Amritsar is camping at Singhu border to protest against the farm bills. When he is not agitating, Singh is attending online classes in computer applications
We have been told by the Union leaders to stay here till the newly inducted farm bills are not repealed. Many of us have been relay protesters, who camp at the protest site for 15 days then head back to tend family and household matters for the next 15 days. This cycle has to be maintained to strike a balance for our present as well as our future.
We are a family of farmers. We have fields at the outskirts of Amritsar. While I regularly work at the farms to help my family, I am also pursuing my post-graduate diploma in computer applications (PGDA). My parents have high hopes for me. They want me to get a good job since farming is no longer a profitable vocation. For this reason, I have brought my study material to Singhu border as 15-day is a long period and I shall not want to miss my online classes.
I am not a student of economics, but it is easy to understand why the farmers are agitated. It takes months of hard work and patience to grow a crop and we never get the right price for the product. If a person creates a product, he or she has to decide the price of the product in the market; however, this is not the case with the farmers.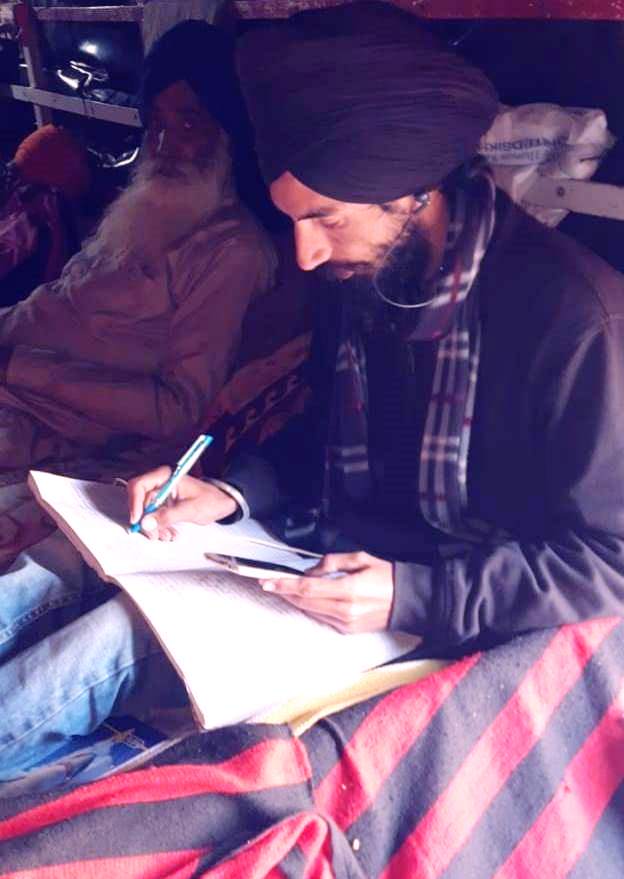 We produce crops and the adhatiyas decide the price. The government's promise of minimum selling price (MSP) is rarely followed. And when this system has established well, the government wants to bring in corporates to fix the price.
Very often, the farmer is not even able to extract the input cost of the farm produce. For, it is not in our hands to determine the market price. The demand and price fluctuate at an alarming level and in a bad season, we are unable to meet our basic necessities.
The growth in farming has virtually stopped and that is why my parents don't want me to take up farming. Therefore, I am trying my best to strike a balance between my studies and the agitation. The agitation is as important as studies for a farmer's family like ours. One holds our present, another our future.
I am a student and my parents are bearing all of my expenses. If the only source of income to my family is threatened, what shall I do? I will go home in some days and then will return after spending 15 days there. I have no idea how long the agitation will go but I am prepared to stay with my fellow farmers for a long haul.