Baneet Sharma, 37, a French teacher in Nabha (Punjab), says Aam Aadmi Party can rid state of its major problems like corruption and drugs menace
In my 37 years of life I have been keenly observing the political landscape of Punjab. As far as my personal understanding of the state is, based on in-depth creditable media reports, Punjab is facing three main challenges: corruption, drugs menace and falling education standards due to mindless privatisation in the sector.
These issues dominate the ongoing state assembly election campaign. As a teacher, I have witnessed first-hand how a whole crop of engineers and other professionals are being churned out without any proper knowledge of the subject matter. In Punjab there are a lot of these private universities that are appealing on the surface but don't have the tools, faculty and the setup to teach say a subject like Aeronautical Engineering or even lesser niche subjects. This affects the supply of trained human resources. So, any party that cares about the issues of the youth is a winner for me.
Thus, Mr Arvind Kejriwal is a winner for me, for the AAP Government in Delhi has turned around the quality of government school education. Kejriwal is a highly knowledgeable leader who understands the value of formal education. I will support Bhagwant Mann as the chief minister only because he is backed by Mr Kejriwal. The state has tried Akali Dal-BJP combination as well as Congress in government. Their years in power have done little for the state. I think it is high time we gave a new party the chance.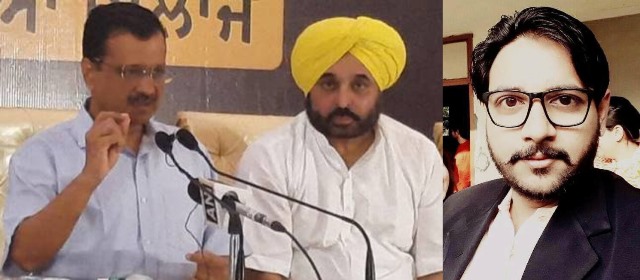 In these tough times of pandemic, a party in power must care about the middle class. The poor can avail of free ration and other help while the rich have savings. It is the middle class which suffers the most. I am a teacher and in the last three years have seen various educational institutes either folding down or operating erratically during the many lockdowns.
How are we supposed to earn a living? How are we supposed to feed our families and take care of their immunity, medical and other needs? We have EMIs to pay, loans to repay and other expenses that keep rising. We need a party that can see through the pain of people. People need stability in uncertain times and politicians should step in.
Captain Amarinder Singh toh Raja Sahab hain. He isn't here to serve, but to relax. Navjot Singh Sidhu on the other hand is hyperactive. He speaks so much and makes little sense. He treats politics like a cricket pitch. He always wants to hit sixers and the audience applause. Politics goes deeper than that. Congress should understand Sidhu isn't a great leader.
As far as the political party floated by farmers Sanyukt Samaj Morcha is concerned, I feel it will only act as a vote cutter for the Akali Dal, BJP and Congress. Akali Dal has so far asked for votes on the basis of religious identity and have won, but now the Janata is disappointed in them. Farmers are particularly disappointed in them and their votes will now likely go to AAP.
But at the end, I hope whoever leads the state, serves its people well and takes note of the needs of each class, and all major issues faced by the state.