Tejinder Singh, 60, district president (Jalandhar) of Aam Aadmi Party, says party office is flooded with calls from people to act as volunteers
I have been associated with the Aam Aadmi Party since 2016 and I feel very elated that the people of Punjab have given us such an overwhelming majority in state Assembly. It will help us to bring about required changes in the state now easily. People are super happy too because everyone wanted change, logon ko azadi mil gayi hai.
Earlier governance was moving at a snail's pace and the common man's work would languish. But people have put their faith in AAP because they know we care, after all our candidates are all ordinary folks, people who understands concerns of the common man.
Our whole office was abuzz with extraordinary energy on the day the results were declared. Sweets were distributed among the party workers and we met up and congratulated each other. We had expected a good performance but we had not expected such a humongous response to our efforts. I feel satisfied that we were able to convince people to give us a chance to genuinely serve them, especially in the area of education, healthcare etc.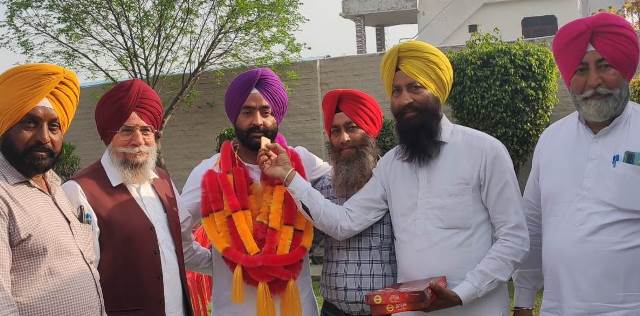 We started door to door campaigning nearly 2.5 years ago and actively listened to the concerns of the people from every section of society. People have voted beyond caste and community lines for good governance. After all at the end of the day everyone wants to feel secure about basic facilities, which we are determined to provide. Be it rural or urban areas, we reached out and people responded.
Every day hundreds of calls are pouring in and people want to volunteer for us; people love the idea of being a part of governance. The good work done in Delhi served as a point of reference for most voters, however it wouldn't be wise to say that the socio-economic concerns of the two states are the same. Issues like drug menace will take longer to uproot and lots of local leaders will need to step up.
We are determined to help Punjab flourish once again. When the farmers protests were going on we didn't lose sight of many other concerns that were equally important and I am glad that we have got the votes of farmers as well. People were determined to vote for change this time no matter what and iss bar sabnein ankhein khol ke vote diya.
One of the reasons people also trusted the AAP was because of our groundwork during the pandemic as well as during the vaccination stage. We got ourselves vaccinated first so that people could see it was safe and that it worked. We hope to continue with the same leadership style; we will face the problems first head on so that they don't reach common people.
The BJP, Akali Dal, Congress will now understand how important it is to connect with people at an emotional level. We believe the Aam Aadmi Party government led by Bhagwant Mann will usher Punjab towards a golden future.
As Told To Yog Maya Singh