Billionaire NRI philanthropist Darshan Singh Dhaliwal who championed India internationally and supported many causes was barred from entering Delhi on October 23 for organising a langar for protesting farmers at Singhu border
Darshan Singh Dhaliwal, a noted Indian-American based in MIlwaukee, who has a reputation for his generosity as a philanthropist and has cordial links to the highest offices in USA feels quite let down by his mother country. Dhaliwal, who has been sponsoring a langar (in Sikhism, it is a community kitchen that serves free meals to anyone and everyone regardless of their background or beliefs such as caste, religion, gender, economic status, or ethnicity), was not allowed to enter India on October 23 when he landed there on a flight from Chicago.
Dhaliwal has been sponsoring the langar since January 2020 and has a record of philanthropy in India for the past several years. In 2004, he had sent an entire trainload of food and other provisions to Tamil Nadu in the aftermath of the devastating Tsunami. He has helped over 2,000 Indian families establish themselves in the USA irrespective of what Indian region they came from.
Talking to LokMarg in an exclusive interview, he said that he headed the campaign to install a memorial of Mahatma Gandhi in the Milwaukee County Courthouse. It was the first time that such a memorial was set up. "Many did it after that but I was the first one. I have established some 2,000 Indian families in the US. I have provided scholarships/financial support to over 1,000 Indian students without asking them which region or religion they belong to."
Dhaliwal, who holds an OCI card, asked, "So why was I being stopped from helping Punjab farmers in distress?" Clearly referring to the fact that he has been a true nationalist and given so much to Indian causes.
In a first person account, he tells LokMarg the complete story that led to October 23 unsavoury incident here:
"Last year in January, while watching TV one day here in the US, I saw how the farmers were protesting at Singhu Border in India amid heavy downpour in cold weather. They seemed to be in a miserable shape. With an intention to provide whatever help I could, I came to Delhi in January 2020 and started a langar and put up tents for the farmers at the site.
"All of these provisions I arranged were from my own hard earned money. While returning to the US, I was accosted by a few security personnel and was detained at the airport for one hour. They asked me why I was doing all this.
"I came back in April 2020 and again detained both ways and was asked the same thing. I told them I had taken a train full of goods to Tamil Nadu when the Tsunami hit the country's southern coasts. At that time no one stopped me, so why was I being stopped now from helping Punjab farmers in distress? The same thing was repeated when I visited India again in June 2021.
"During my previous visits they would ask me why I was doing this and if I was collecting money from someone to do this. I would ask them to give me one good reason why I shouldn't be doing it. I told them it is my own money. I haven't done anything wrong or illegal.
"I made three trips to the Singhu border and never took the stage to speak about the issue or approached any farmer leader because that is not my cause. I was asked to speak at the protest site but I refused. The issue on which they are protesting is between the government and the protesting farmers. The government says the policy is good for farmers; but the farmers don't like it. I do not know whether they are good or bad/ right or wrong. I do not have the entire knowledge of the issue so why should I even talk about it. All I wanted to do was provide food and shelter to the protesting farmers.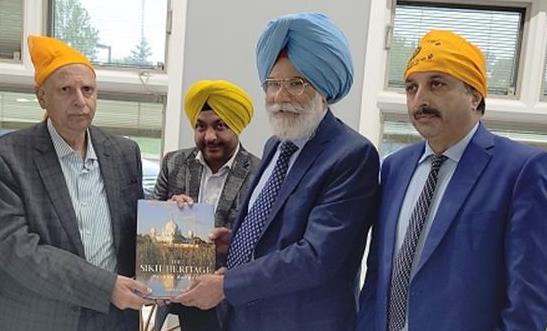 "I want to go on record to say that I am the biggest nationalist in the US today. I was the first person to install the statue of Mahatma Gandhi in the Courthouse. Many did it after that but I was the first one. I have established some 2000 Indian families in the US. I have provided scholarships/financial support to over 1000 Indian students without asking them which region or religion they belong to. President Bush is a dear friend. I have been close to President Clinton as well.
"I am from a village called Rakhra near Patiala and migrated to the US in 1972. Our family is involved in politics in Punjab. My younger brother Surjit Singh Rakhra was a minister in the Punjab Government and the other brother Charanjit Singh Dhaliwal is a businessman in the US. For the past 10 months, we have been providing langar and shelter and other amenities to the protesting farmers at the Singhu border but not even once did we get involved with the politics of the issue because that is not our intention.
"Today, I learnt that the former chief minister of Punjab, Mr Parkash Singh Badal, is believed to have written to Prime Minister Narendra Modi, bringing to his attention what happened to me when I landed in Delhi. I would like to emphasise that I have only one purpose and that is to provide food and shelter to the protesting farmers who are holding ground there in spite of all adversities and we will continue to do that no matter what!"