I have never been a lawmaker, but am seized by nostalgia now that India's Parliament Complex is set to go, replaced by another. A parliamentary correspondent for long, I am aware I am not breaching any rules, traditions or Privileges that govern the temple of the world's largest democracy. I only exercise my right as a citizen, and a voter.
One assumed that members and ministers, parties and governments, come and go, but parliament's surroundings and its ethos that have evolved over decades will continue forever. But that is not to be.
Designed by Edwin Lutyens and Herbert Baker, begun a century back and completed in 1927, it is set for retro-fitting, whatever it eventually means, to accommodate offices and other facilities, allowing more functional space.
There seems little consulting and debate on why it is necessary to demolish what is existing. It is expected to come up, rather hastily, by 2022, to mark 75 years of Independence.
Something is absent. Bhoomi Pujan or ground-breaking was performed by Prime Minister Narendra Modi. Neither the President who constitutes the Parliament nor the Vice President who is Chairman of the Rajya Sabha were part of the ceremony.
Times are a-changing in India. The plea that the existing structure is very Indian has fallen on deaf ears. It is based on Chausath Yogini Temple in Morena, Madhya Pradesh that Lutyens visited in early 1900s.
But old is gold in some other democracies. The United States Congress premises like the Senate Hall, are over 250 years old. The British Parliament building, over 400 years old, is under repairs and will reopened after five years. These structures were never replaced; only refurbished.
There are other, equally modern, ways to accommodate more members and offices. An expansion rather than a hugely expensive (Rs 971 crore or $131 million) demolish-and-rebuild course would have sufficed.
The new complex will be bigger, and more modern, we are told. Compared to the present 545-odd, it will have 888 seats in the Lok Sabha, with an option to increase it to 1,224. When is delimitation due? Granting that India's is the biggest, which other democracy has such large number of lawmakers?
As plans unfold and get concrete shape, literally, the present round structure supported on imposing Gothic pillars will probably go. Incidentally, their number used to be a 'difficult' general knowledge (GK) quiz for students and those appearing for competitive examinations. Why, just walking past them has helped lawmakers and officials in frail health keep fit!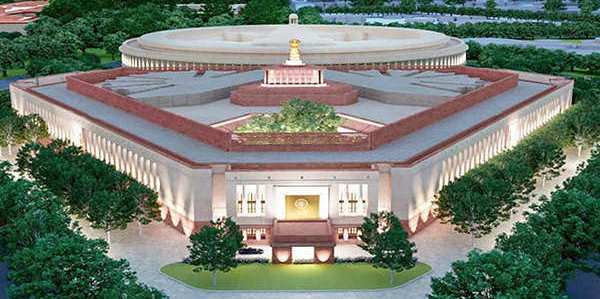 One is not sure if the new 21st century structure will keep the numerous statues and portraits that abound, from Chandragupta Maurya (321-296 BC) to the sages, saints and social reformers down the ages, to contemporary freedom fighters and pioneer parliamentarians. One can only hope they will be stored away safely, and restored with respect due to them.
For the uninitiated, Lok Sabha and Rajya Sabha, the two Houses are where the real action occurs. Issues are debated and legislations are discussed and passed. Before what media report as 'pandemonium' became a rule more than exception, attending it was educating. Opposition extracted information during Question Hour despite ministers' efforts to hold it back.
I am lucky to have reported some of the most memorable speeches. Like Bikaner Maharajah Karni Singh opposing, and Jammu and Kashmir Maharajah Karan Singh supporting the abolition of the privy purses of erstwhile princely states. N K P Salve attacking incumbent premier Morarji Desai for alleged favours to latter's son. George Fernandes defending the Desai Government, only to switch sides within hours.
Representing a thoroughly depleted opposition, Madhu Dandavate paid a moving tribute to an assassinated Indira Gandhi, mourning that while country had a new premier, Rajiv will never get another mother.
There was no glory, but certainly grace, in defeat the way V P Singh, Chandra Shekhar and Atal Bihari Vajpayee went down after defending their doomed governments.
There were orators like Hiren Mukherjee and Nath Pai who excelled in English and Vajpayee, in Hindi. Sadly, the era of oratory and orators who spoke without malice is long over.
Equally sadly, Parliament's new plan does not provide for the Central Hall. It is tantamount to kicking off the ladder on which parliamentary democracy has climbed. There seems no place for such sentiments, anyway.
Jawaharlal Nehru made his "Tryst With Destiny" speech here at the midnight hour heralding the birth of independent India. The Constitution was debated here. After each Lok Sabha election, Leaders of winning party or parties in alliance were elected here.
If exceptions are to be remembered, Acharya Kripalani and Jayaprakash Narayan chose Morarji over others in1977. Initially chosen, Devi Lal, to everyone's surprise, put his turban on V P Singh's head in 1989. And in 2004, Sonia Gandhi received applause and rosebuds, but eventually listened to her "inner voice" and passed on the premiership to Manmohan Singh.
Central Hall was where foreign dignitaries, Bill Clinton and Barack Obama among them, addressed Indian parliamentarians. There is no other place where the President of the Republic opens the Budget session each February.
Central Hall has been the veritable gallery of greats of Indian democracy. Where and how 25 portraits from Mahatma Gandhi to Tagore and Netaji Bose to six of the former prime ministers and many opposition stalwarts will find their places? Will the 21st century Parliament leave behind those hallowed traditions of the twentieth? Is the 'restoration' going to be selective, as those opposing the new complex fear, with ample justification?
Beyond these 'formalities', Central Hall displaced parliament's "human face". Sad, again, that this must be talked in the past tense. Ministers and Members would meet here informally and sort out many things that they would be otherwise rigid about; where delicate issues and even stalled business were resolved.
Dubbed India's most privileged coffee house – also the cheapest – Central Hall was where the media was allowed to join the lawmakers' adda, to talk informally, gain perspectives, and gather political gossip.
There was mutual respect, even bonhomie. One could see Mamata Banerjee standing respectfully before Somnath Chatterjee who she had defeated in an earlier election. You could discuss with Sharad Pawar a no-no issue like farmers' suicide in Maharashtra, or cinema with Sushma Swaraj or cricket with Arun Jaitley – even watch an ongoing cricket match on the two TV sets installed, over coffee and toast-butter.
What transpired there could be reported, but without attributing it to the place, unless one wanted to flaunt access to the high and mighty – and boast, as some scribes do, "Oh, I told so-and-so…"
Perhaps, it is just as well that Central Hall will be a thing of the past. Old world charm and some grace are bound to go with it. Like my witnessing opposition stalwart Chandra Shekhar fondly asking Chaudhary Randhir Singh, his erstwhile Congress colleague, "Aap ko Governor banva dein?" Three days later came the announcement: Chaudhary was Governor of Sikkim.
The writer can be reached at mahendraved07@gmail.com